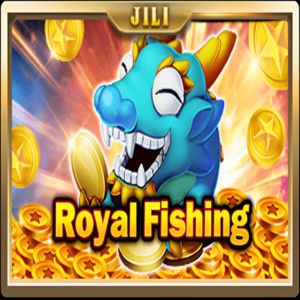 Royal Fishing Game Review & Free Demo
Royal Fishing Game is a new casino fishing game by JILI. Read our latest slot review on how to play Royal Fishing and learn about the complete game features. Let dive into the captivating underwater world of Royal Fishing Game, a thrilling and immersive fish shooting game developed by JILI Games.
If you're seeking an exhilarating gaming experience that combines the excitement of the hunt with the chance to win substantial rewards, then you're in for a treat. In Royal Fishing Game, players of all skill levels are welcomed to explore the depths of the ocean and test their shooting abilities against a diverse array of aquatic creatures.
From lobsters that trigger explosive chain reactions to powerful bosses like the Golden Toad and Ancient Crocodile, the game offers a wide range of challenges and opportunities to win big. 
Royal Fishing Details & Information
| | |
| --- | --- |
| Software | Jili |
| Type | Video Arcade |
| Max Win | x1000 |
| Sit Per Table | 4 |
| Min Coins Size | 0.10 |
| Max Coins Size | 80 |
| RTP | 97% |
How to Play Royal Fishing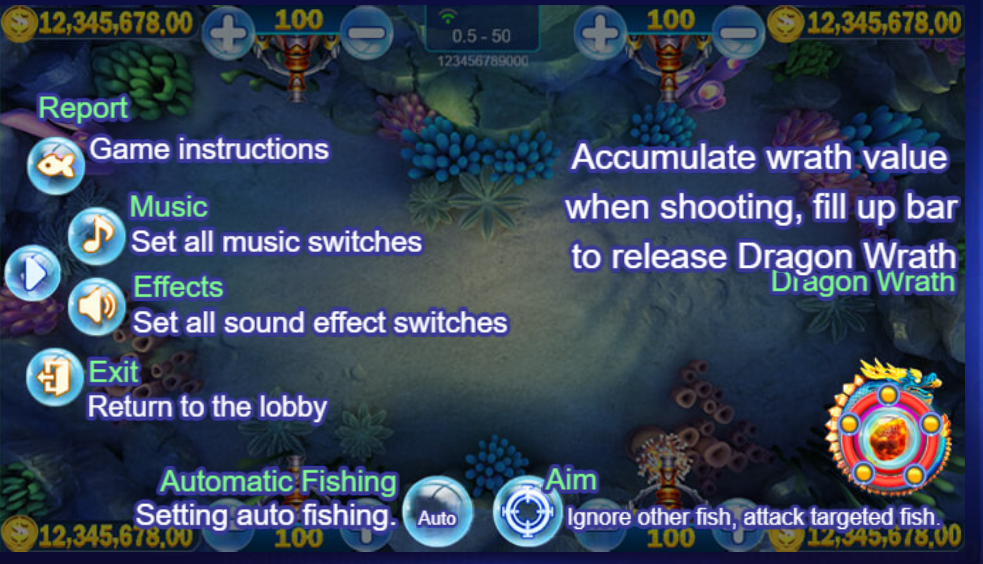 Learn how to play Royal Fishing by following the instructions in our guide below, included understanding the game mechanics, placing your bet & paylines and selecting the game room.
1. Understanding the Game Mechanics
Target Control (Auto Shoot)


One of the fundamental game mechanics in Royal Fishing is target control, often referred to as auto-shoot. This feature empowers players to select their prey by choosing the fish they wish to eliminate.

Choosing Your Weapon
Your choice of weapon significantly influences your gameplay. Various guns offer varying levels of firepower, so it's essential to consider your strategy carefully. Whether you prefer a rapid-fire approach or favor heavy artillery, your weapon choice will impact your success in the game.
2. Placing Your Bet and Paylines
Once you've grasped the game's fundamental mechanics, it's time to dive deeper into gameplay. Understanding how to place your bets and decipher paylines is essential for maximizing your winning potential. Let's explore these intricacies in detail.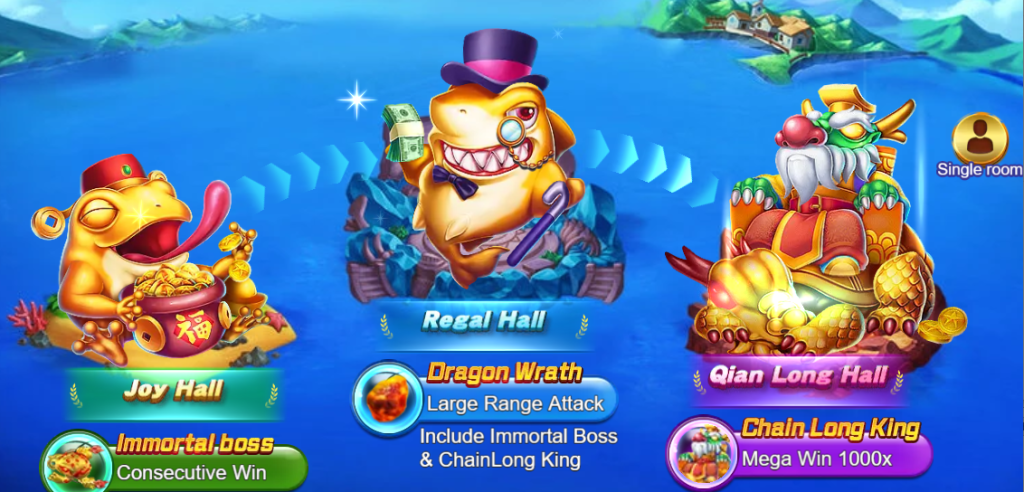 3. Selecting the Game Room
Royal Fishing Game offers four distinct game rooms, each with its unique challenges and rewards:
Ecstasy Room (Bet limit: 0.1 – 10): Ideal for beginners looking to embark on their fishing journey.
King's Room (Bet limit: 1 – 80): Tailored for players seeking higher stakes and more substantial rewards.
Qianlong Room (Bet limit: 10 – 100): Designed for seasoned hunters in search of the ultimate challenge.
VIP Room (Bet limit: 10 – 100): Exclusive access for elite anglers seeking the utmost excitement.
Your choice of room should align with your skill level and ambition. Each room offers a unique set of challenges and rewards, so choose wisely based on your experience and objectives.
Game Features of Royal Fishing
You should discover the game features of Royal Fishing, included lobster explosions, lightning lobster, shocking lightning chain, explosive crab and more. Ready to explore further? Let's dive in and see each of them below!
1.Lobster Explosions
Successful kills in Royal Fishing Game come with a bang! When you take down a fish, especially with the Lobster, there's an explosion that can trigger a chain reaction, taking out other fish in the vicinity. It's an explosive way to maximize your rewards.
2.Lightning Lobster
A special treat awaits when you encounter the Lightning Lobster. It offers free ammo with no restrictions on the number of bullets you can fire. However, there's a catch – you have a 15-second window to make the most of this electrifying bonus. 
3.Shocking Lightning Chain
Eliminating your targets with precision has its rewards. After a successful elimination, you receive the Lightning Chain. This electrifying feature allows you to shock nearby fish, potentially leading to more catches. 
4.Explosive Crab
Royal Fishing Game introduces an explosive element – the Exploding Crab. After a successful kill, this crustacean goes out with a bang, setting off a large-scale explosion. This explosion creates an opportunity to capture multiple fish within its fiery blast. 
5.Conquer the Immortal Bosses
In the depths of the game, you'll encounter the formidable Immortal Bosses – the Golden Toad and Ancient Crocodile. When they appear on the scene, players have the chance to win prizes continuously until these mighty bosses retreat.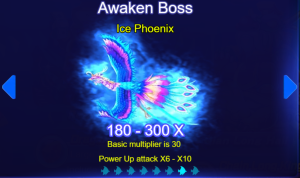 6.Awaken the Ice Phoenix
Defeating various bosses in Royal Fishing Game unlocks the powerful Ice Phoenix. This majestic entity unleashes an Awakening Attack, offering players the chance to secure significant victories.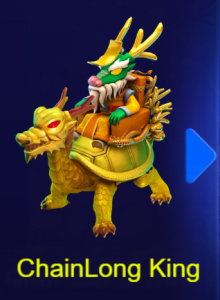 7.Chainlong King Wheel
Capturing the elusive Chainlong King triggers the Chainlong King Wheel. Players can select the pointer to halt the spin, revealing the multiplier rate. The excitement multiplies as the number of the outer circle aligns with the inner circle, potentially reaching an astonishing 350 times your initial bet. 

8.Unleash the Dragon Wrath
As you embark on your fish shooting adventure, you accumulate wrath value with each shot. When it reaches its peak, summon the Dragon Wrath! This awe-inspiring skill causes a large-range meteorite attack at the center of the screen, creating a splash and securing substantial winnings.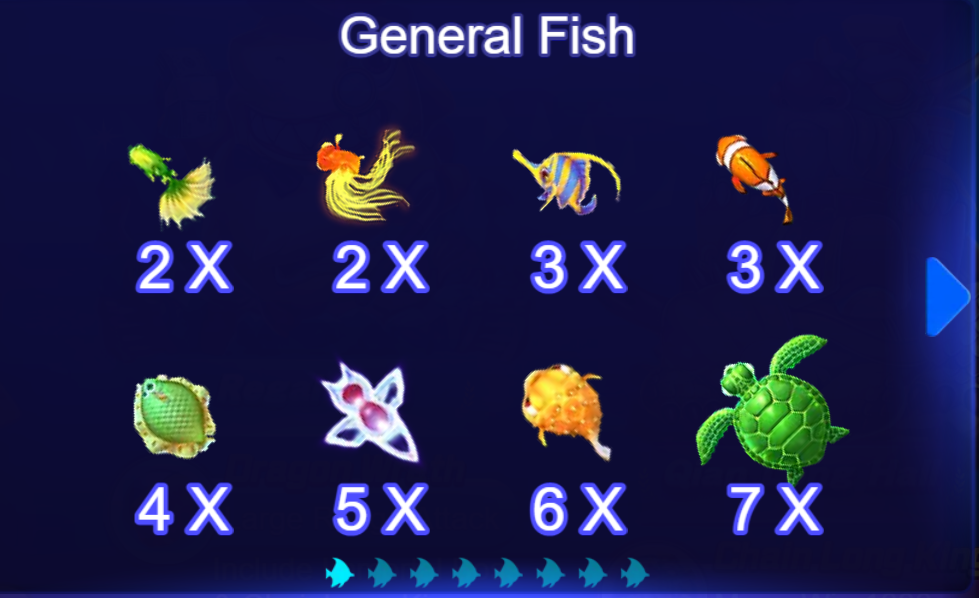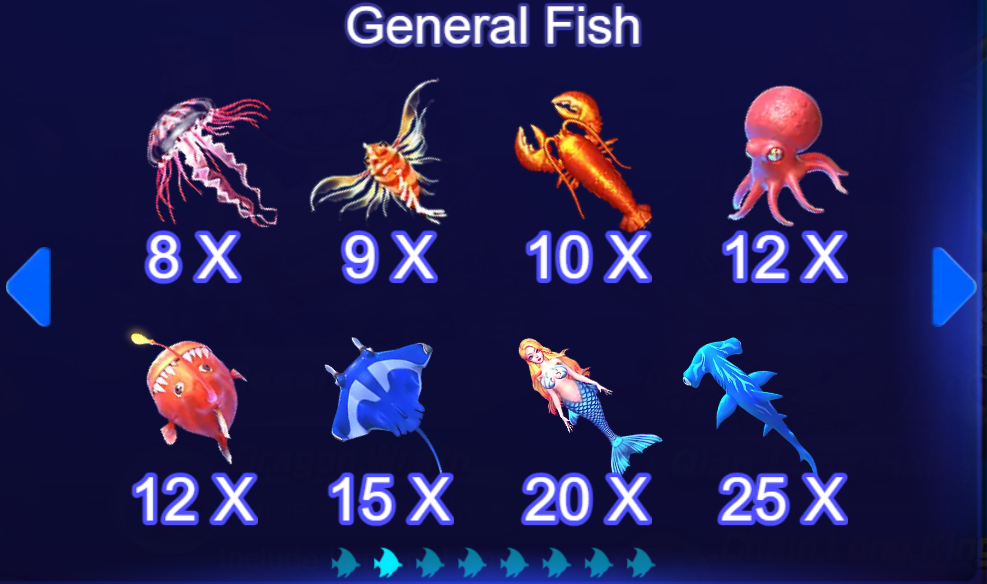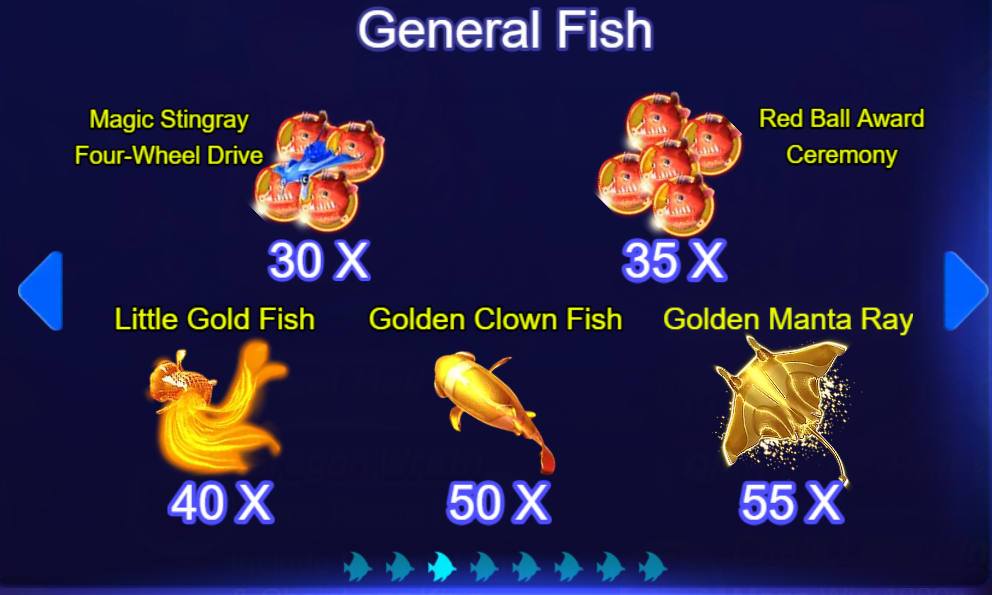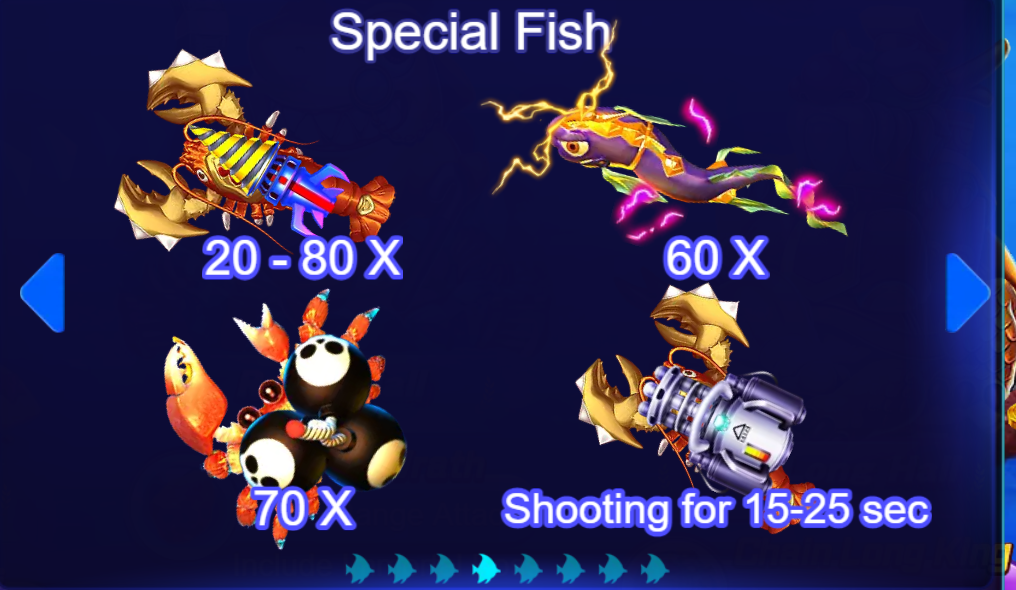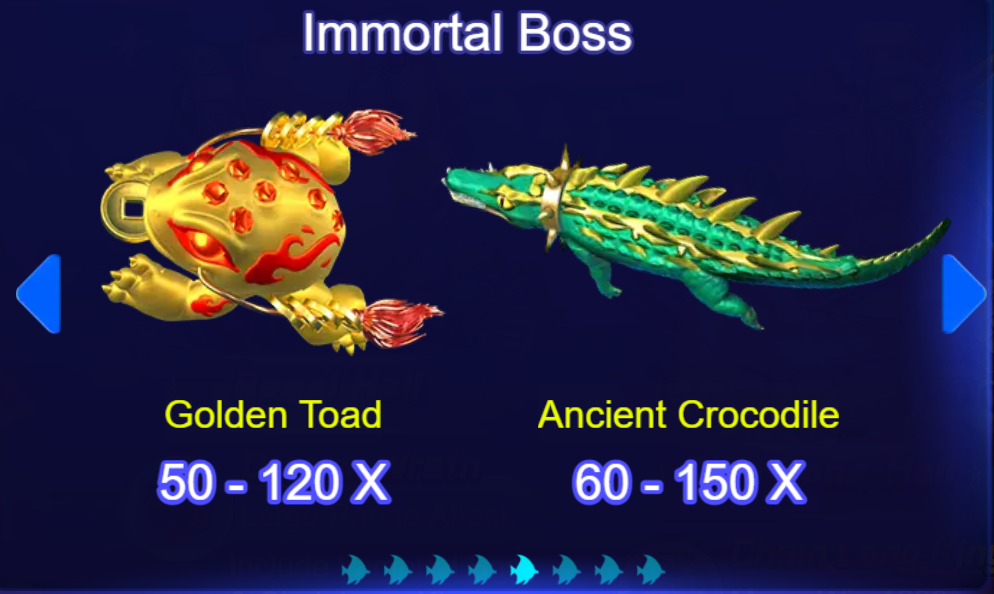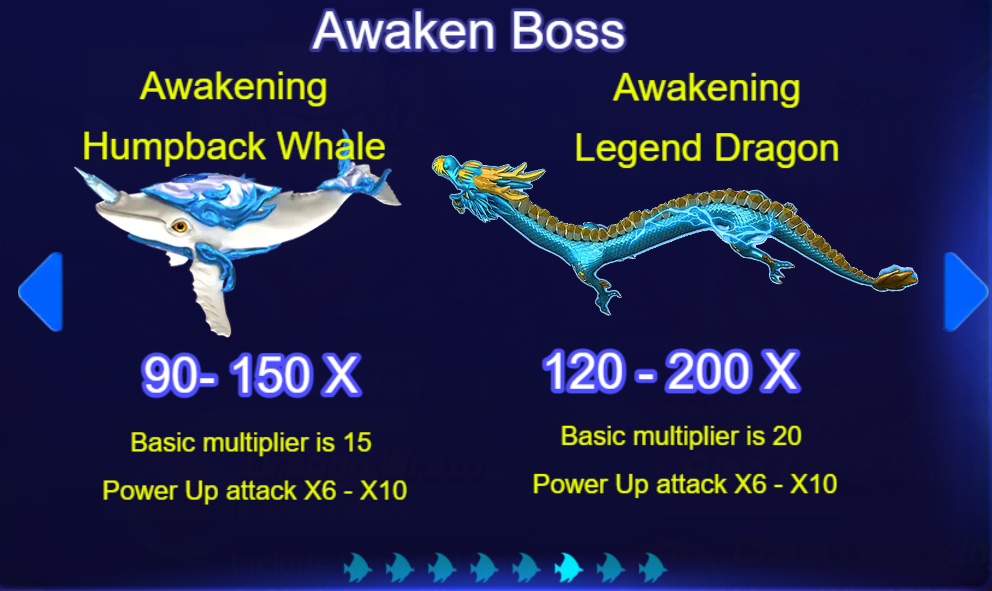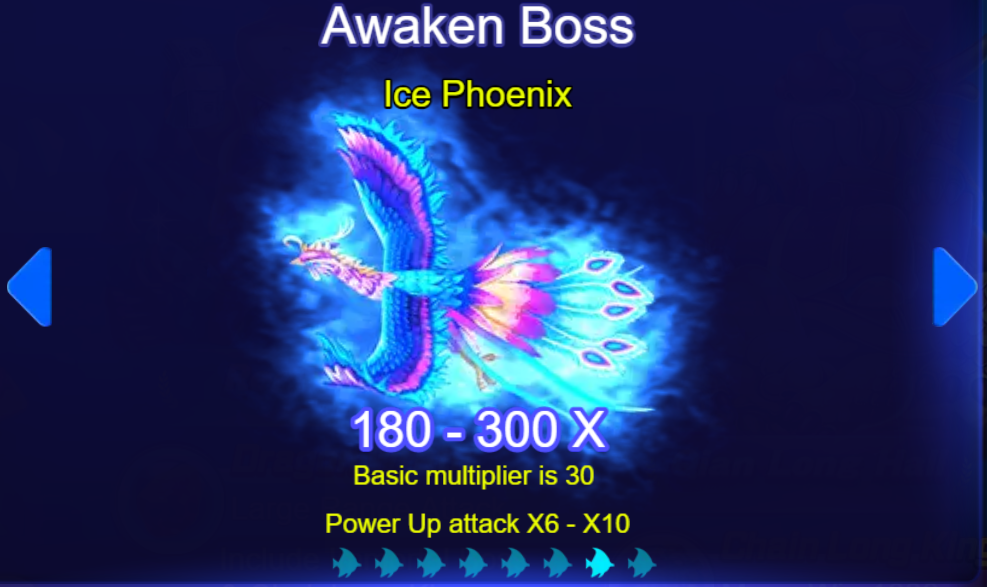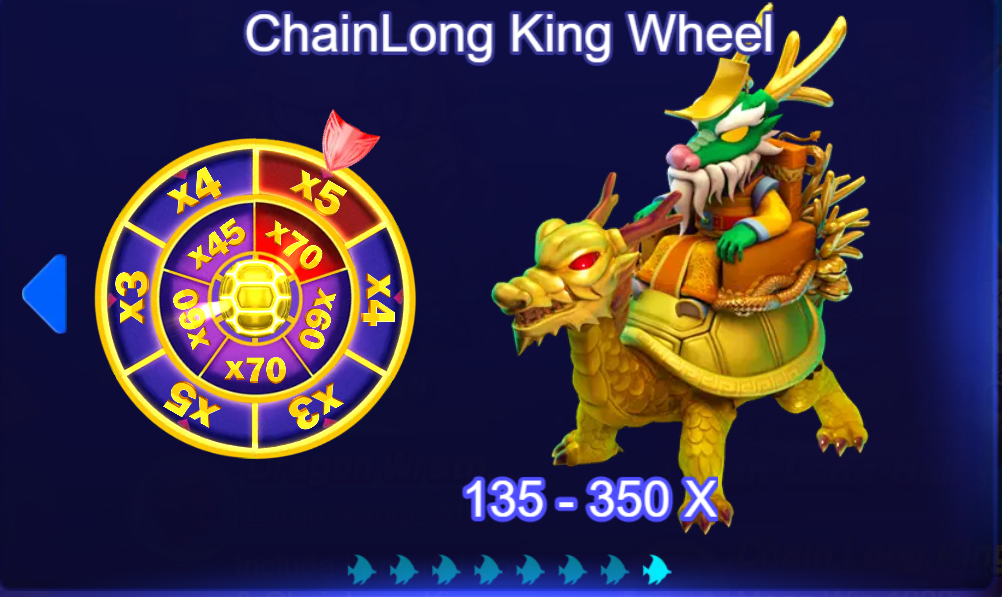 5 Techniques to Win at Royal Fishing
With our recommended 5 techniques below, you can easily to win at Royal Fishing, included master the game mechanics, leverage game features, choose your room wisely, and more.
1.Master the Game Mechanics
Understanding the game's core mechanics, such as target control (auto-shoot), weapon selection, and bet adjustment, is crucial. Utilize these features effectively to enhance your shooting accuracy and maximize your winnings.
2.Leverage Game Features
Take full advantage of the special features and fish bonuses outlined in the game features section. These unique elements, including the Lightning Lobster, Thunder Consecutive Hit, and Chainlong King Wheel, 
3.Choose Your Room Wisely
The selection of the game room should align with your skill level and objectives. Whether you're a beginner or an experienced player, there's a room tailored to your needs.
4.Target Selection
Precision shooting is key to success. Use the target lock function to focus your firepower on specific fish, especially high-value targets. Prioritize your shots for efficient and rewarding gameplay.
5.Auto Mode Efficiency
If you prefer a more automated approach, Auto Mode can be your ally. Customize your settings, including the number of fish to shoot and your weapon choice, to optimize your winnings effortlessly.
Popular Casino To Play Royal Fishing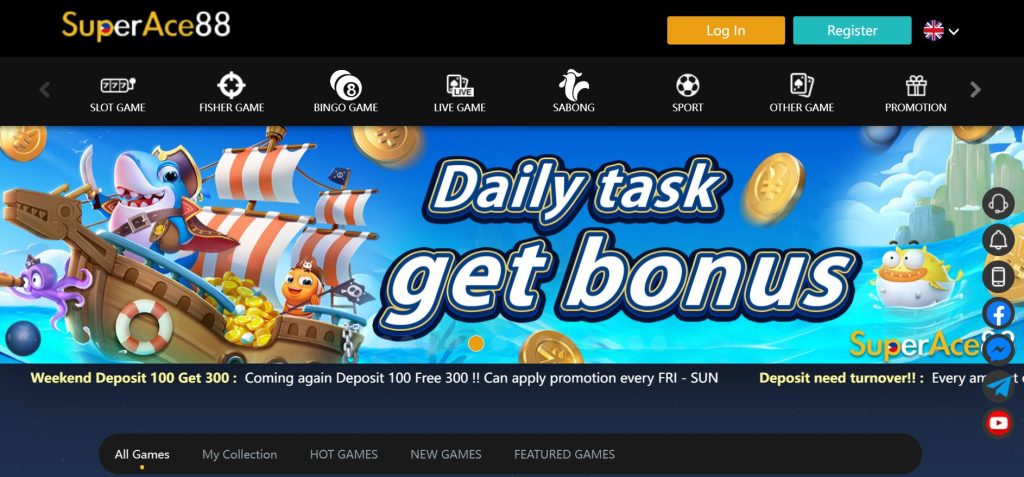 Popular Casino to play Royal Fishing is Superace88. Experience the thrill of Royal Fishing Game at Superace88 Online Casino, the ultimate destination for fish shooting enthusiasts. Here, you'll find the perfect platform to immerse yourself in this exciting underwater adventure.
Superace88 Casino offers a diverse range of games, ensuring there's something for everyone. From slots and table games to live casino action, the variety is unmatched. Navigating the user-friendly platform is a breeze, ensuring a seamless gaming experience.
Plus, you can boost your gameplay with generous bonuses and promotions, including welcome offers and free spins. Your safety is a top priority, with advanced security measures in place to protect your data, and fair play is guaranteed. 
In conclusion, Royal Fishing Game offers a captivating blend of underwater adventure and thrilling casino excitement. We began with an introduction to this immersive world, highlighting its diverse challenges and enticing rewards.
Understanding how to play Royal Fishing Game, with its intricate game mechanics, was our next step. We then delved into the game's features, showcasing special fish, explosive abilities, and formidable bosses.
Finally, we explored strategies on how to win this exciting game. Royal Fishing Game invites players to master their shooting skills, strategically choose their targets, and leverage powerful game features.
Popular Casino Bonus for Royal Fishing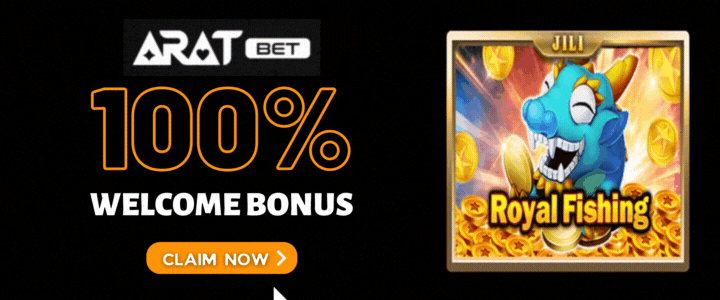 Frequently Asked Questions (FAQs)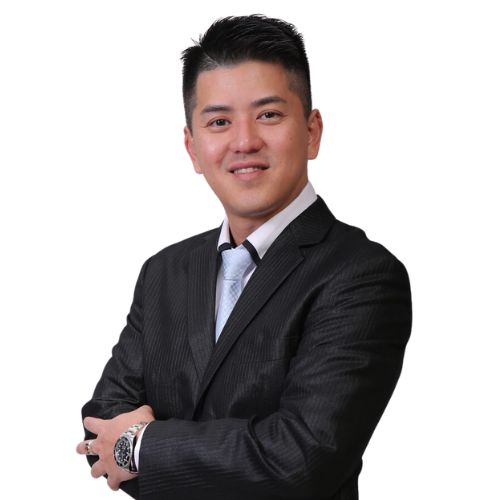 Blog Manager at Superace88
Hugo Phang, a dynamic and innovative professional who serves as the Blog Manager at Superace88 Online Casino, a prominent player in the Philippines' thriving online casino industry. With a passion for both gambling and digital content creation, Hugo brings a wealth of experience and expertise to his role, helping to shape the online casino's digital presence through captivating blog content. 
With his finger on the pulse of the latest casino trends and a commitment to delivering engaging and informative articles, Hugo Phang plays an instrumental role in enhancing the Superace88 Online Casino experience for players across the Philippines and beyond.
The following blog post is intended for informational purposes only. The content provided in this post is based on the knowledge and information available up to the date of publication, which is [insert publication date]. Please note that information, circumstances, and events may have changed since the time of writing, and while we strive to provide accurate and up-to-date information, we cannot guarantee the accuracy, completeness, or relevance of the content at a later time.
Thank you for reading and engaging with our blog post. We hope you find the information valuable and useful. Please remember that the information provided here is not a substitute for professional advice and should be used at your own discretion.