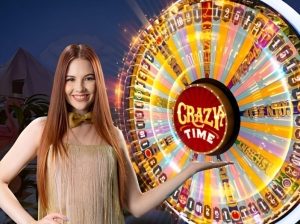 Introduction to Crazy Time Live Casino Game
Crazy Time is a live casino games by Superace Casino. Read our latest slot review on how to play Crazy Time and learn about the complete game features. Let's dive into our comprehensive guide on Crazy Time, the thrilling live online casino game that offers non-stop excitement and enormous payout possibilities.
In this article, we will dive deep into the game mechanics, rules, and strategies to help you maximize your chances of winning big. Whether you're a seasoned player or a newcomer, our expert tips will give you an edge in this fast-paced game show. Let's get started!

Crazy Time is a unique live online game show, based on the highly successful Dream Catcher money wheel concept. It combines the elements of a classic game show and popular casino game like roulette, offering a one-of-a-kind player experience. The game features interactive elements and advanced technology, adding an extra layer of excitement to every round.
Crazy Time Details & Information
| Bet | Payout | RTP | Probability |
| --- | --- | --- | --- |
| 1 | 1:1 | 96.08% | 37% |
| 2 | 2:1 | 95.95% | 25.93% |
| 5 | 5:1 | 95.78% | 12.96% |
| 10 | 10:1 | 95.73% | 7.40% |
| Cash Hunt | Varies | 95.72% | 3.70% |
| Pachinko | Varies | 94.33% | 3.70% |
| Coin Flip | Varies | 95.70% | 5.56% |
| Crazy Time | Varies | 94.41% | 1.85% |
Learn how to play Crazy Time by following the instructions in our guide below, included placing bets, spinning the wheel, winning multipliers and bonus game
Step 1: Placing Bets
Before the wheel is spun, players have 8 different sections to choose from for placing bets. These sections include regular numbers (1, 2, 5, and 10) and four exciting bonus games: Cash Hunt, Coin Flip, Pachinko, and Crazy Time.
Step 2: Spinning the Wheel
Once the betting round is over, the game host spins the wheel. A slot on top of the wheel generates a random multiplier and section before the wheel comes to a stop.
Step 3: Winning Multipliers
If the wheel lands on a regular number, players receive their initial stake back plus a multiplier based on the number they bet on. For example, betting on "2" will yield a 2x multiplier.
Step 4: Bonus Games
If the wheel lands on one of the bonus game sections, players enter exciting bonus rounds with the chance to win even bigger multipliers.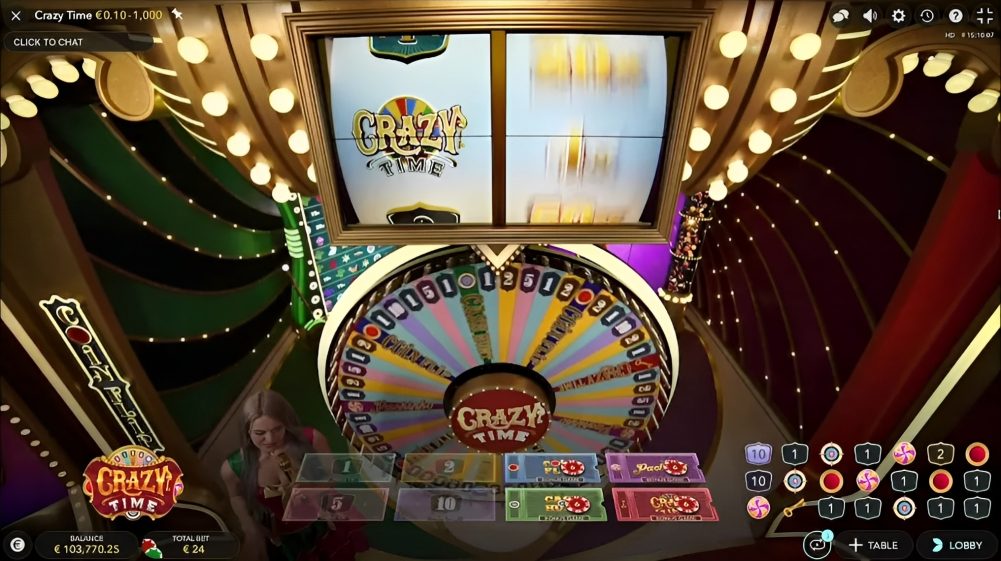 Game Features of Crazy Time
You should discover the game features of Crazy Time , included pachinko, cash hunt, coin flip and crazy time bonus wheel. Ready to explore further? Let's dive in and see each of them below!
1. Pachinko
The Pachinko bonus game offers a 3.7% chance of triggering and takes players to a wall with hundreds of pins.
Multiplier values are located at the bottom, and the presenter releases a glowing puck that bounces between the pins, ultimately landing in a multiplier slot. If the puck hits a "double" slot, all multipliers at the bottom double in value, potentially leading to massive payouts.
2. Cash Hunt
The Cash Hunt bonus game also has a 3.7% chance of triggering. It introduces players to a shooting gallery with a 9×12 grid of symbols that turn into multipliers.
Players get to shoot the symbols to reveal their personal combination of multipliers.
3. Coin Flip
With a 5.56% chance of triggering, the Coin Flip bonus game adds an extra layer of excitement. Players witness the presenter flipping a coin into the "Flip-O-Matic" machine, where two random multiplier values are revealed – one in the "Red" area and the other in the "Blue" area.
Depending on which color the coin lands on, the corresponding multiplier value is applied to the player's bet.
4. Crazy Time Bonus Wheel
The highly coveted Crazy Time Bonus Wheel offers a massive winning potential but is the most challenging to trigger, with only a 1.85% chance. If you are lucky enough to catch this bonus, you enter a brand-new studio with a 64-segment wheel filled with multipliers.
You choose a flapper (green, blue, or yellow), and the presenter spins the wheel to determine your multiplier prize. If your flapper hits a "double" or "triple," all multipliers on the wheel are doubled or tripled, leading to staggering wins of up to 20,000x.
4 Techniques To Win At Crazy Time
With our recommended 4 techniques below, you can easily to win at Crazy Time, included target lightning lightning strikes, balance risk reward, set clear winning goals and embrace responsible gambling.
1. Target Lightning Strikes
Focus your bets on numbers that have the potential to be boosted by lightning multipliers. While these numbers may appear less frequently, the rewards can be substantial.
Consider numbers like 3, 4, 17, and 18, as they offer high multiplier potential.
2. Balance Risk and Reward
Determine your risk tolerance and choose your bets accordingly. High-risk, high-reward bets on numbers like 3, 4, 17, and 18 can lead to substantial payouts.
Alternatively, opt for more frequent wins with moderate multipliers (7 to 14) for a balanced approach.
3. Set Clear Winning Goals
Before you start playing, establish clear profit goals for your gaming sessions. Once you achieve your target, consider taking a break to secure your winnings.
Effective bankroll management is key to maximizing your success in Crazy Time.
4. Embrace Responsible Gambling
Stay within your budget and avoid chasing losses. Remember that Crazy Time is meant to be an entertaining experience, and responsible gambling practices contribute to a positive outcome. 
Popular Casino To Play Crazy Time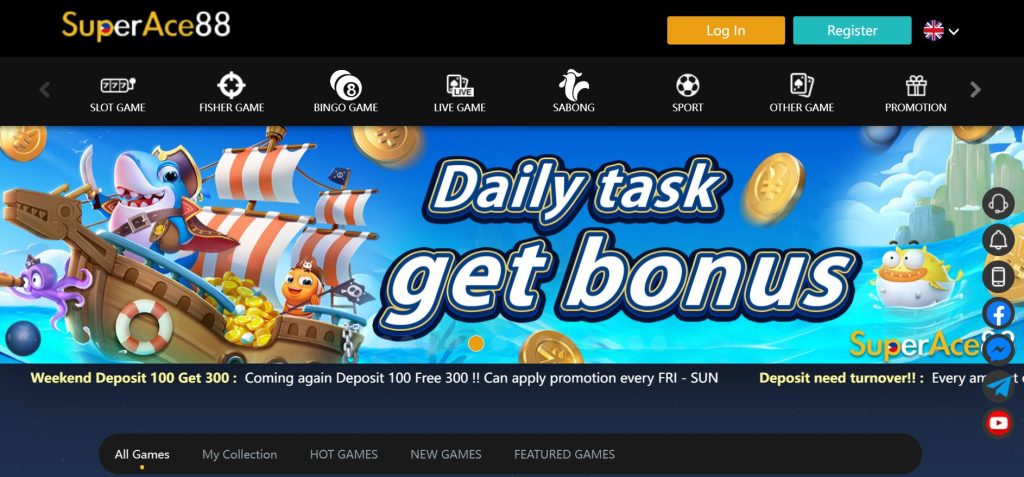 Popular Casino to play Crazy Time is Superace88.If you're ready to experience the thrill of Crazy Time, we recommend trying your luck at Superace88, one of the leading online casinos that offer this exciting game.
Superace88 provides a secure and entertaining gaming platform, making it the perfect destination for Crazy Time enthusiasts.
Crazy Time is a game that perfectly blends the excitement of a game show with the thrill of a casino game. With its engaging bonus rounds and massive multipliers, it's no wonder players are drawn to this unique live casino experience.
By understanding the game mechanics, strategic betting, and choosing the right online casino, you can increase your chances of winning big in Crazy Time. So, gear up for non-stop thrills and start spinning the wheel to uncover extraordinary payouts!
Top Casino Bonus for Crazy Time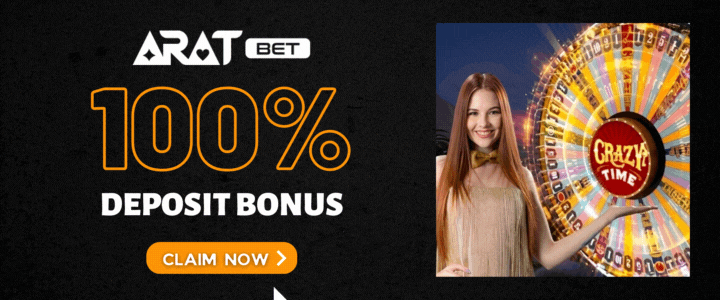 Frequently Asked Questions (FAQs)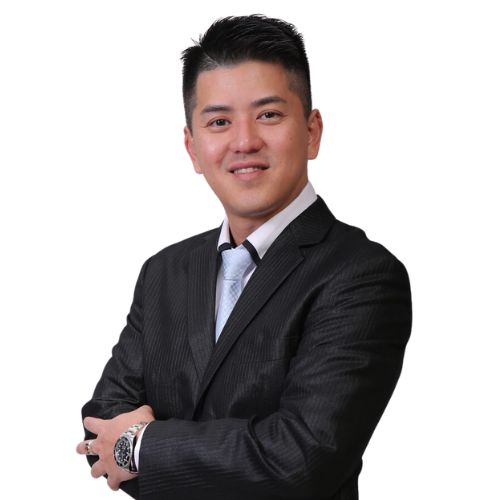 Blog Manager at Superace88
Hugo Phang, a dynamic and innovative professional who serves as the Blog Manager at Superace88 Online Casino, a prominent player in the Philippines' thriving online casino industry. With a passion for both gambling and digital content creation, Hugo brings a wealth of experience and expertise to his role, helping to shape the online casino's digital presence through captivating blog content. 
With his finger on the pulse of the latest casino trends and a commitment to delivering engaging and informative articles, Hugo Phang plays an instrumental role in enhancing the Superace88 Online Casino experience for players across the Philippines and beyond.
The following blog post is intended for informational purposes only. The content provided in this post is based on the knowledge and information available up to the date of publication, which is [insert publication date]. Please note that information, circumstances, and events may have changed since the time of writing, and while we strive to provide accurate and up-to-date information, we cannot guarantee the accuracy, completeness, or relevance of the content at a later time.
Thank you for reading and engaging with our blog post. We hope you find the information valuable and useful. Please remember that the information provided here is not a substitute for professional advice and should be used at your own discretion.