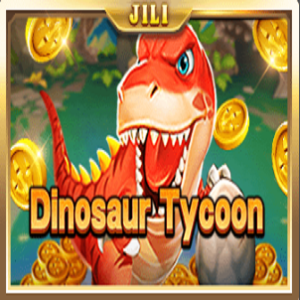 Dinosaur Tycoon Fishing Game Review & Free Demo
Dinosaur Tycoon Fishing Game is a new casino fishing game by JILI. Read our latest slot review on how to play Dinosaur Tycoon and learn about the complete game features. Let's dive into the exhilarating world of Dinosaur Tycoon Fishing Game, where action, strategy, and thrill combine to create an immersive gaming experience like no other.
Step into a prehistoric realm filled with majestic creatures, including dinosaurs, dragons, and colossal beasts, waiting to be captured for their bountiful treasures. Armed with an array of powerful weapons, you'll embark on an adventurous journey to conquer these mythical creatures and claim extraordinary prizes.
The game's dynamic mechanics, from auto shoot targeting to deploying special skills, add an element of excitement and challenge to every encounter. With stunning graphics and engaging features, Dinosaur Tycoon Fishing Game promises to keep you on the edge of your seat, offering endless opportunities for exploration, triumph, and the chance to win incredible rewards. 
Dinosaur Tycoon Fishing Details & Information
| | |
| --- | --- |
| Software | Jili |
| Type | Video Arcade |
| Payout | 2-1500 |
| Sit Per Table | 4 |
| Min Coins Size | 0.1 |
| Max Coins Size | 100 |
| RTP | 97.78% |
How to Play Dinosaur Tycoon Fishing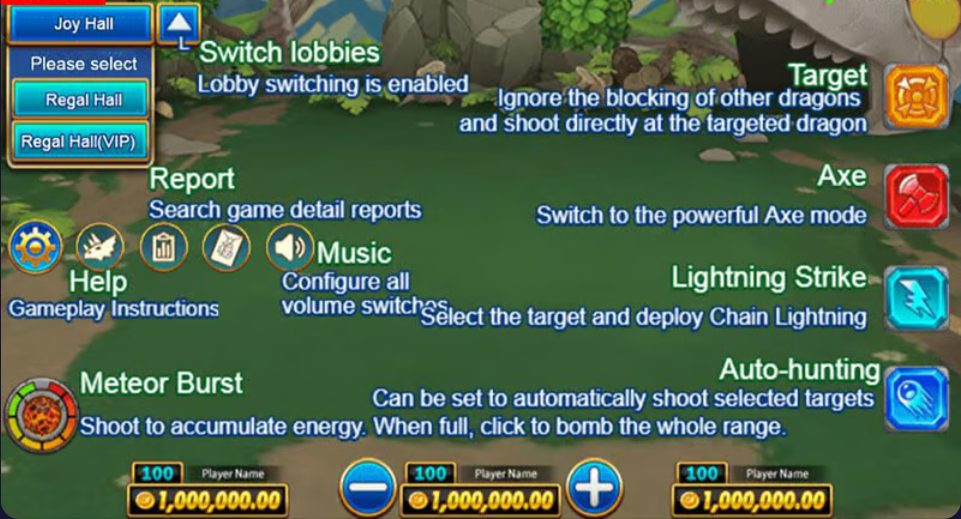 Learn how to play Dinosaur Tycoon Fishing by following the instructions in our guide below, included understanding the game mechanics, placing your bet, paylines and selecting the game room.
1.Understanding the Game Mechanics
Target Control (Auto Shoot)
One of the fundamental aspects of the Dinosaur Tycoon Fishing Game is the target control mechanism, which involves the auto shoot feature. 


Choose Weapon
Another crucial aspect of the game is the selection of weapons. Players have the option to choose from various weapons that offer different capabilities and advantages. These weapons include Shotgun Attack, Huge Bone, Dragon Fire, Heavy Axe, and Electric Cannon, each providing a unique way to interact with the game's creatures.


2.Placing Your Bet and Paylines
Once you have familiarized yourself with the game mechanics, the next step is to place your bet and select the desired paylines. Carefully consider your betting strategy, as it plays a significant role in determining your chances of winning prizes and bonuses.
3.Selecting the Game Room
Choosing the right game room can have a significant impact on your overall gaming experience. Each game room may have varying difficulty levels, prize opportunities, and betting limits.
With a through understanding of the game mechanics, precise bet placement, and thoughtful selection of the game room, you can maximize your chances of success in the captivating Dinosaur Tycoon Fishing Game. Happy gaming and may the treasures and bonuses be ever in your favor!
Games Features of Dinosaur Tycoon Fishing
You should discover the game features of Dinosaur Tycoon Fishing, included Golden Mammoth, effect dragon, bomb frog, oviraptor, pterosaur, special medium dragon golden T-rex, special weapon and lightning strike. Ready to explore further? Let's dive in and see each of them below!
1.Golden Mammoth
The Golden Mammoth is a prized catch in the Dinosaur Tycoon Fishing Game. Capturing the Golden Mammoth grants players various prizes according to the paytable. As an intriguing aspect, increasing the bet also enhances the chances of winning when the Golden Mammoth is successfully shot.
Bet 0.1 Range Jackpot: 100-200.
Bet 0.2-0.8 during Jackpot: 300-500.
Bet 0.9-9 during Jackpot: 3000-5000.
Bet 10-50 Range Jackpot: 30,000-50,000.
Bet 60-100 Range Jackpot: 60,000-80,000.
Moreover, upon successfully eliminating the Golden Mammoth, players are rewarded with all the bonuses displayed in the Bonus panel, further boosting their potential rewards.
2.Effects Dragon and Bomb Frog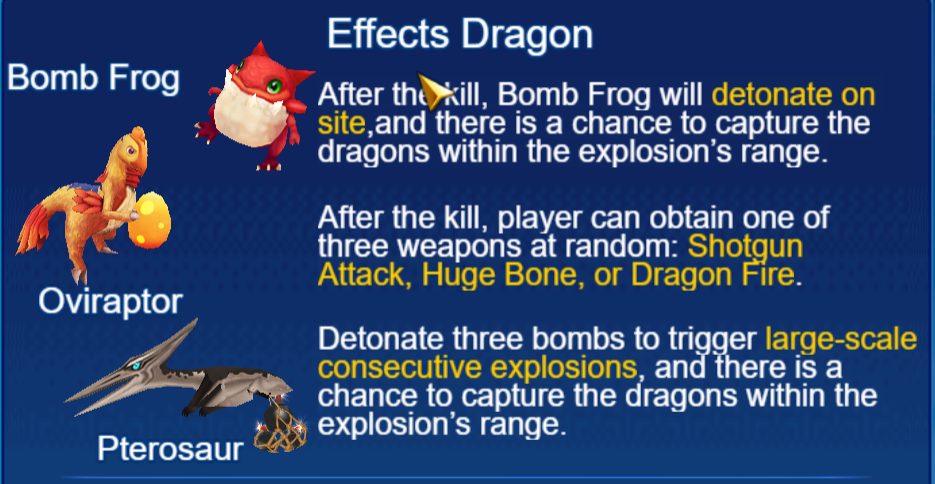 The Effects Dragon and Bomb Frog are exciting features that add dynamism to the gameplay. After shooting the Effects Dragon, the Bomb Frog detonates on-site, creating an explosion that offers players a chance to capture dragons within its range. This thrilling chain reaction adds an element of surprise and thrill to the game.
3.Oviraptor and Pterosaur
Upon defeating the Oviraptor, players are presented with an opportunity to obtain one of three random weapons: Shotgun Attack, Huge Bone, or Dragon Fire. 
4.Special Medium Dragon
Encountering the Special Medium Dragon in the game offers players the chance to consecutively gain the base multiplier rate by shooting. As an exciting prospect, players stand a chance to win the Super Prize, with the possibility of the multiplier reaching up to seven times its original value.
5.Mammoth
Taking down Mammoths in the game is a rewarding endeavor. Players have the chance to increase the multiplier on the ore up to an impressive 300X. 
6.Flying Dragon Wheel
When players capture a Pterodactyl King, they trigger the Flying Dragon Wheel feature. This feature allows players to interact and influence the outcome of their rewards. 
7.Golden T-Rex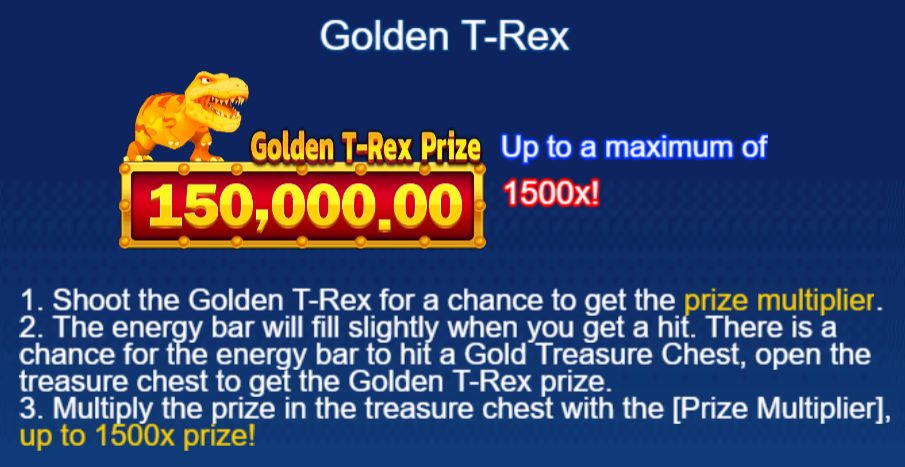 The Golden T-Rex is another exciting element of the game, offering players a chance to win the prize multiplier. As players land successful hits on the Golden T-Rex, the energy bar fills, presenting the possibility of hitting a Gold Treasure Chest.
8.Special Dragon Egg
Breaking the Special Dragon Egg activates a 20% multiplier for prizes from all dragons killed within a 20-second time limit. However, it's important to note that the bonus time of the Mystery Dragon Egg does not increase the prizes of the Golden Mammoth.
9.Special Weapon – Heavy Axe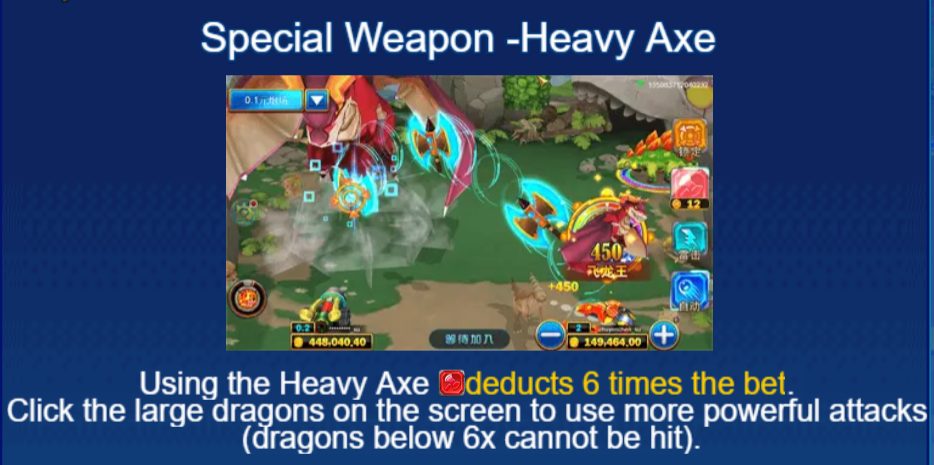 The Heavy Axe symbol offers players a powerful weapon but comes with a cost. Using the Heavy Axe deducts six times the bet, but it allows players to click on the large dragons on the screen and deliver more potent attacks.
10.Special Skill – Lightning Strike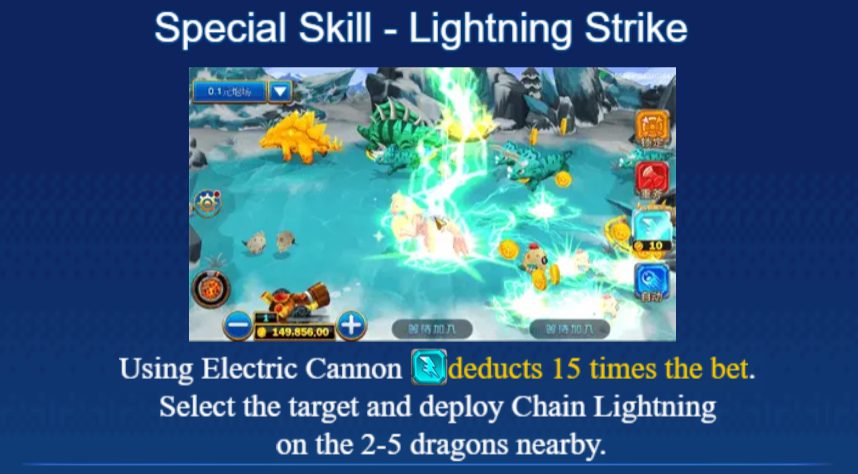 By using the Electric Cannon, players can deduct 15 times the bet to select a target and deploy Chain Lightning on two to five nearby dragons, potentially scoring multiple rewards with one strategic move.
11.Meteor Burst (Free)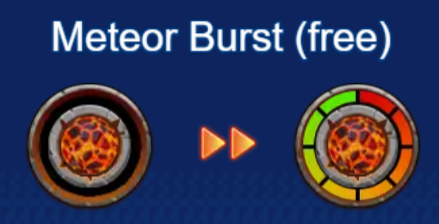 In the Meteor Burst feature, players accumulate energy with each shot they take. When the energy bar is full, players can click the button to deploy the Meteor Burst, causing a large-area explosion at the center of the screen.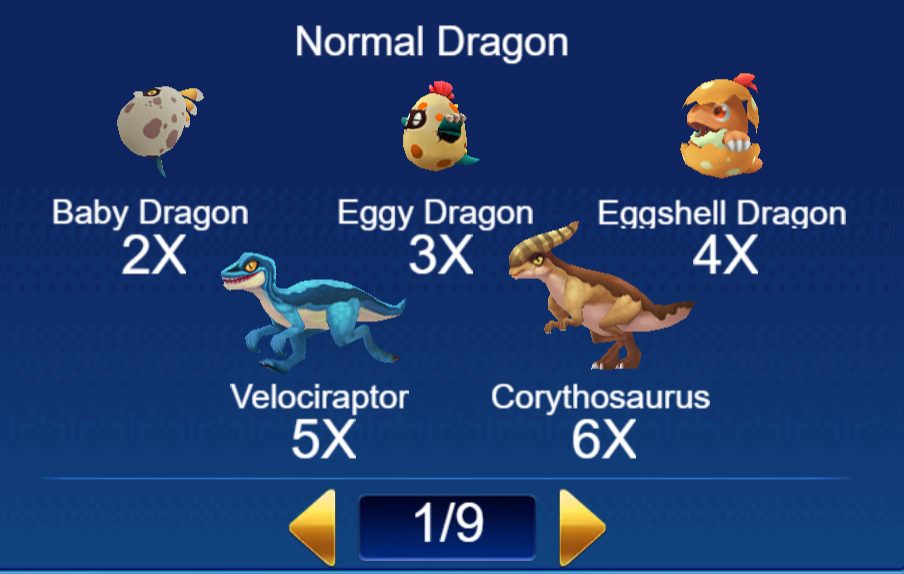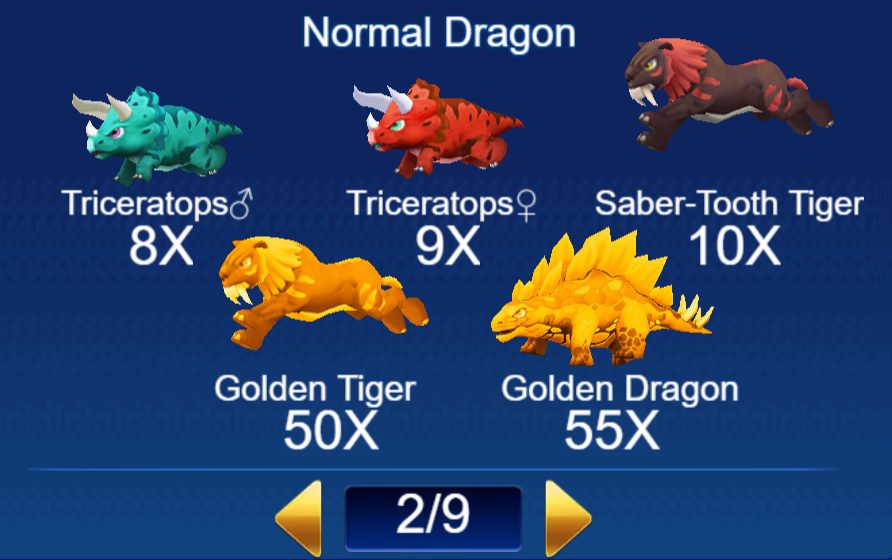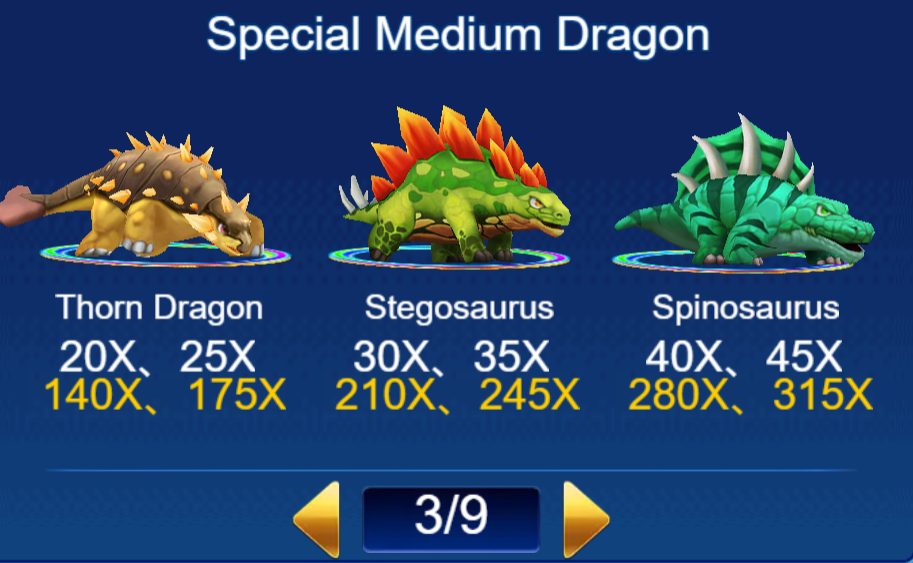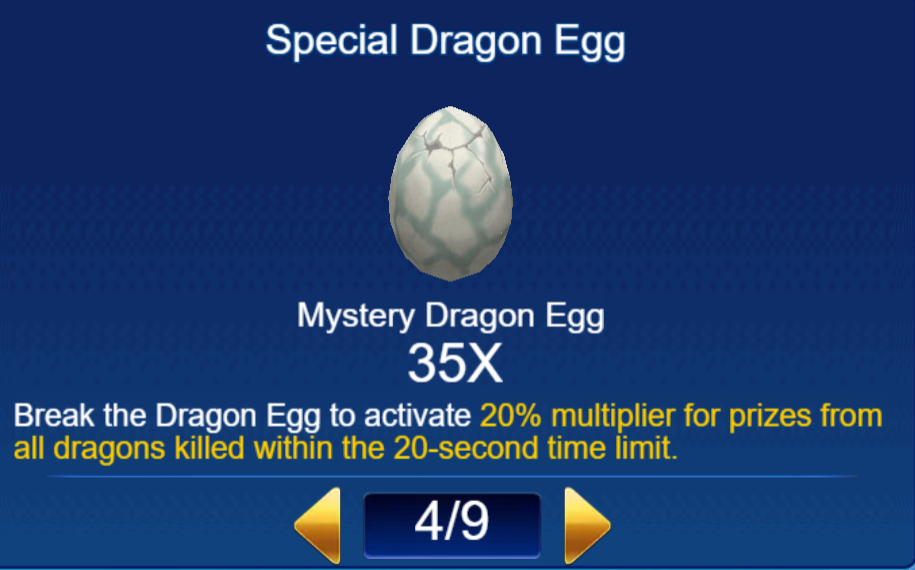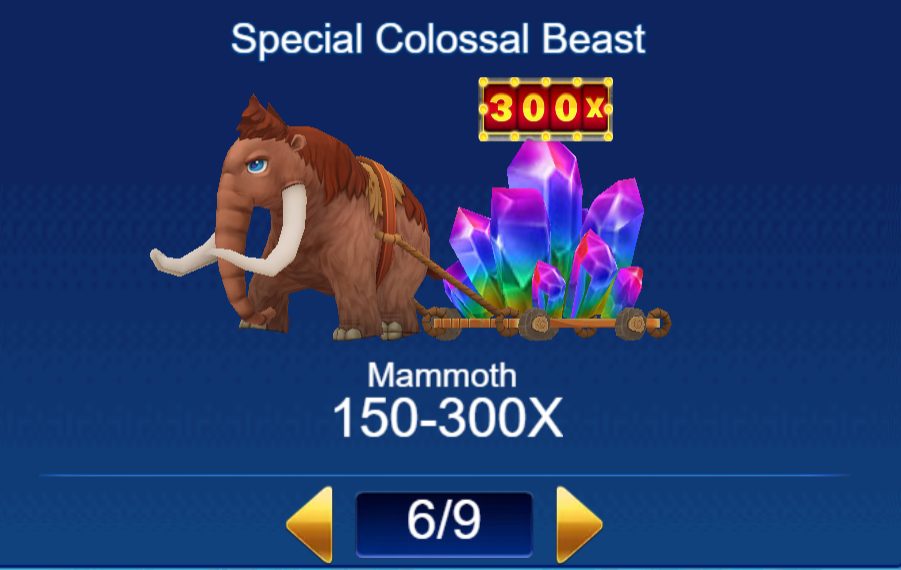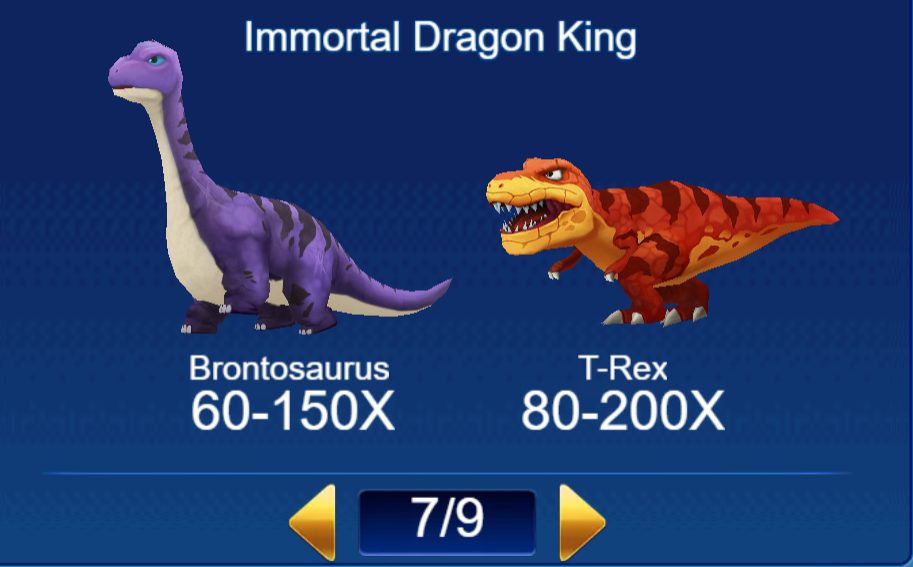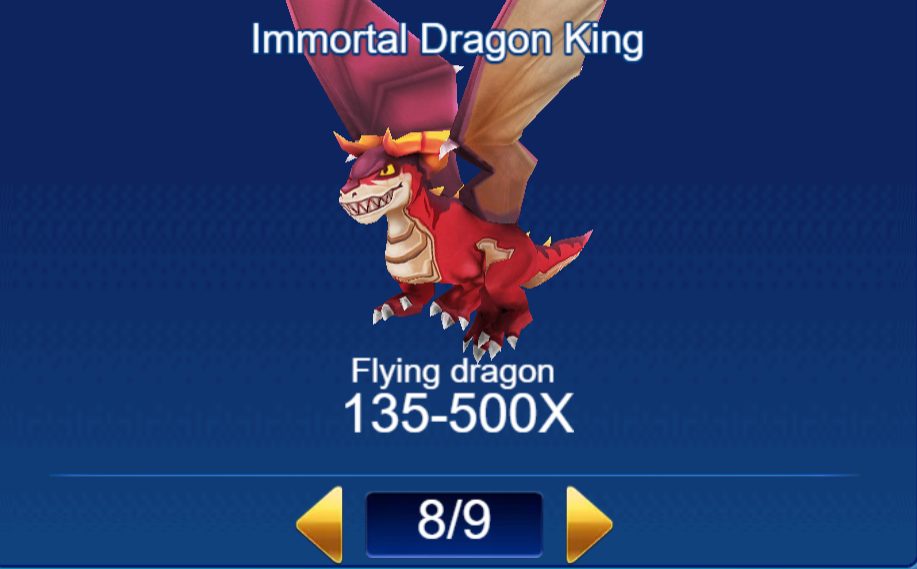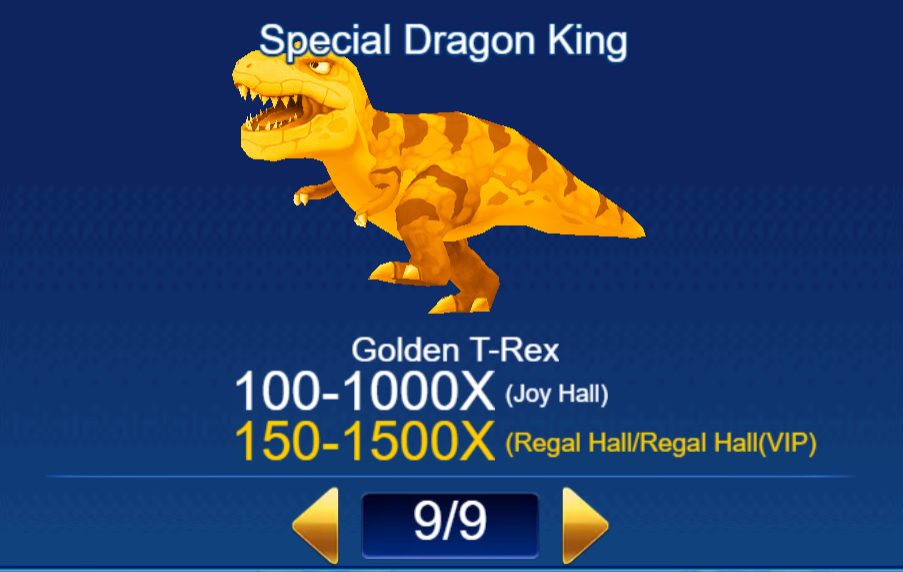 5 Techniques to Win at Dinosaur Tycoon Fishing
With our recommended 4 techniques below, you can easily to win at Dinosaur Tycoon Fishing, included master the game mechanics, focus on high-paying symbols, utilize special weapons skill wisely, and play in the right game room
1.Master the Game Mechanics
Familiarize yourself with the target control (auto shoot), choose the right weapon for each situation, and adjust your bets strategically based on the information from the previous section. 
2.Focus on High-Paying Symbols
Take advantage of the game features and symbols mentioned in the Games Features of Dinosaur Tycoon Fishing Game section. Keep your eyes on high-paying symbols like the Golden Mammoth and Golden T-Rex, as they offer substantial prize multipliers. 
3.Utilize Special Weapons and Skills Wisely
When encountering challenging creatures, such as the Effects Dragon or the Pterosaur, make smart use of special weapons like the Heavy Axe and the Electric Cannon. Timing and strategy are crucial when deploying these weapons. 
4.Play in the Right Game Room
Choose the game room that aligns with your skills and betting preferences. If you're a seasoned player and willing to take more significant risks, opt for higher-stakes rooms with potentially larger jackpots.
Popular Casino To Play Dinosaur Tycoon Fishing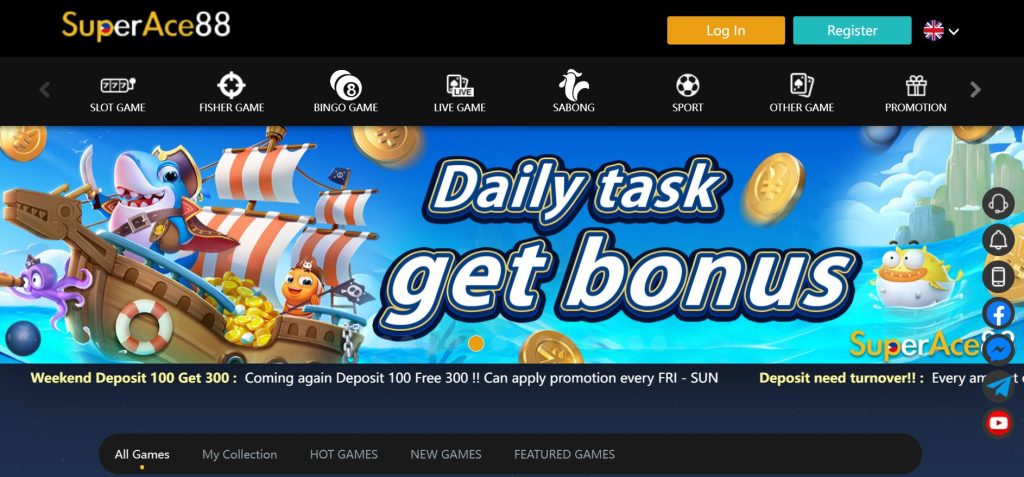 Popular Casino to play Dinosaur Tycoon Fishing is Superace88. For an unparalleled gaming experience and the opportunity to immerse yourself in the thrilling world of Dinosaur Tycoon Fishing, look no further than Superace88.com Casino.
This reputable and cutting-edge online casino offers a seamless platform to enjoy the game's captivating features and symbols. With a user-friendly interface and a wide range of betting options, players can easily place their bets and embark on an adrenaline-pumping adventure.
Superace88 Casino provides a safe and secure environment for gamers, ensuring a seamless and fair gaming experience. Moreover, the casino's compatibility with various devices allows players to access the game from desktops, laptops, or mobile devices, granting the flexibility to play anytime, anywhere.
JILI Dinosaur Tycoon Fishing Game at Superace88 Casino promises an exhilarating gaming experience filled with excitement and rewards.
From understanding the game mechanics, as discussed in How to play Dinosaur Tycoon Fishing Game, to exploring the game's features and symbols in Games Features of Dinosaur Tycoon Fishing Game, players are equipped with the knowledge to strategize their bets and leverage special features.
So, embark on this action-packed journey at Superace88 Casino and become a master dinosaur hunter, claiming extraordinary prizes and bonuses along the way. Let the adventure begin!
Claim Casino Bonus for Dinosaur Tycoon Fishing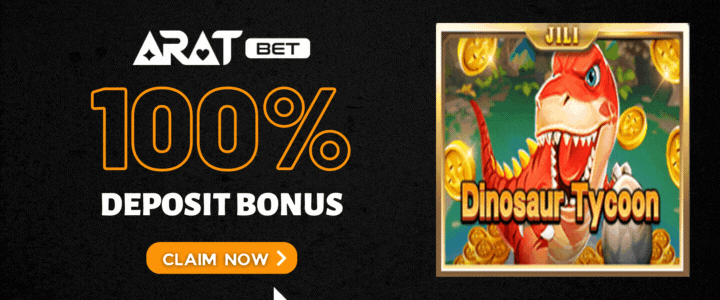 Frequently Asked Questions (FAQs)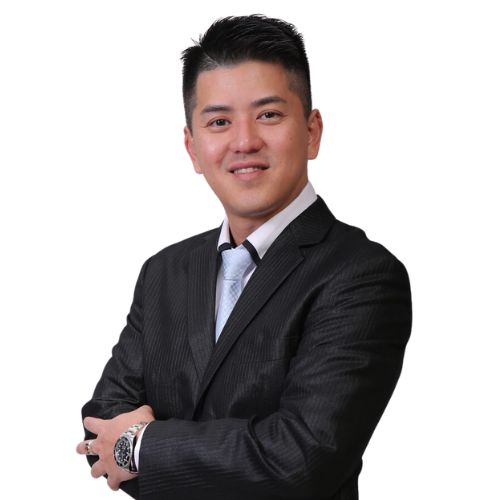 Blog Manager at Superace88
Hugo Phang, a dynamic and innovative professional who serves as the Blog Manager at Superace88 Online Casino, a prominent player in the Philippines' thriving online casino industry. With a passion for both gambling and digital content creation, Hugo brings a wealth of experience and expertise to his role, helping to shape the online casino's digital presence through captivating blog content. 
With his finger on the pulse of the latest casino trends and a commitment to delivering engaging and informative articles, Hugo Phang plays an instrumental role in enhancing the Superace88 Online Casino experience for players across the Philippines and beyond.
The following blog post is intended for informational purposes only. The content provided in this post is based on the knowledge and information available up to the date of publication, which is [insert publication date]. Please note that information, circumstances, and events may have changed since the time of writing, and while we strive to provide accurate and up-to-date information, we cannot guarantee the accuracy, completeness, or relevance of the content at a later time.
Thank you for reading and engaging with our blog post. We hope you find the information valuable and useful. Please remember that the information provided here is not a substitute for professional advice and should be used at your own discretion.