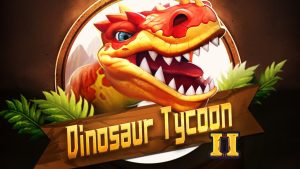 Dinosaur Tycoon 2 Fishing Game Review & Free Demo
Dinosaur Tycoon 2 Fishing Game is a new casino fishing game by JILI. Read our latest slot review on how to play Dinosaur Tycoon 2 Fishing and learn about the complete game features.
Let's dive into a gaming experience like no other, where the past and present collide in a whirlwind of action, strategy, and exhilaration. Prepare to embark on an epic journey into the captivating realm of Dinosaur Tycoon 2 Fishing Game, a creation that fuses the thrill of the hunt with the excitement of immersive gameplay.
Step back in time to a prehistoric era teeming with majestic creatures, from dinosaurs to dragons, each waiting to be conquered for their treasures.Armed with an arsenal of powerful weapons and guided by your wits, you'll set out on a quest to capture these mythical beasts and claim extraordinary rewards.
Free Demo: Dinosaur Tycoon 2 Fishing
Dinosaur Tycoon 2 Fishing Details & Information
| | |
| --- | --- |
| Software | Jili |
| Type | Video Arcade |
| Payout | 2-1500 |
| Sit Per Table | 4 |
| Min Coins Size | 0.01 |
| Max Coins Size | 1 |
| RTP | 96.8% |
How to Play JILI Dinosaur Tycoon 2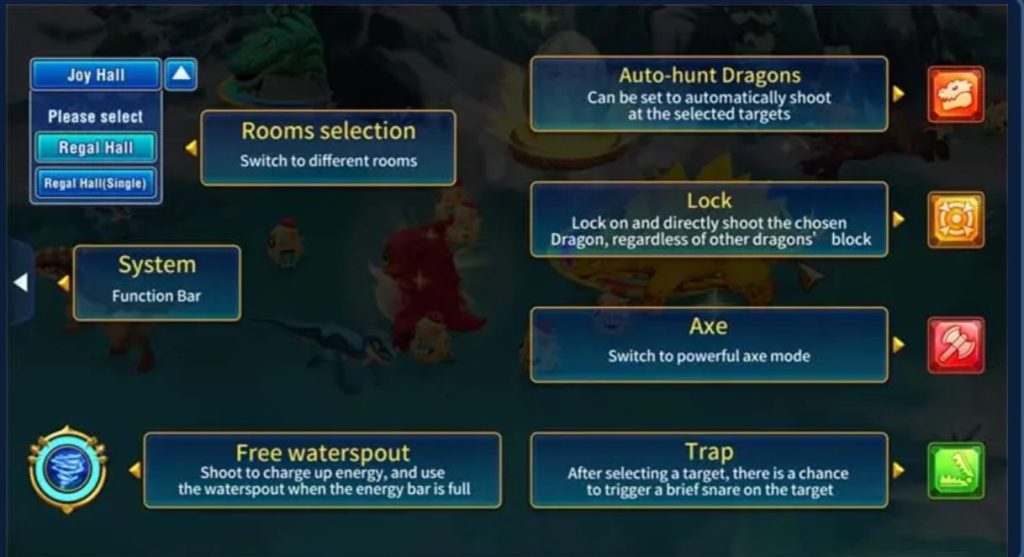 Learn how to play Dinosaur Tycoon 2 Fishing by following the instructions in our guide below, included understanding the game mechanics, placing your bet, paylines and selecting the game room.
1.Understanding the Game Mechanics
Target Control (Auto Shoot)
In the heart of JILI Dinosaur Tycoon 2 Fishing lies the intuitive target control mechanism, featuring an automated shooting system. Engage in the thrill of the hunt as the auto-shoot function takes center stage, allowing players to focus on strategy and precision. 


Choose Your Weapon
Diversify your arsenal with an array of potent weaponry. Selecting the right weapon for the task at hand is essential for maximizing your chances of success. 


2. Placing Your Bet and Paylines
In the pursuit of untold riches, your bets play a pivotal role. JILI Dinosaur Tycoon 2 Fishing offers a diverse range of betting options, each accompanied by its own set of potential jackpots. Let's explore the different bet ranges and their corresponding jackpot rewards:
Bet 0.1 Range Jackpot 100-200.
Bet 0.2-0.5 Range Jackpot 200-400.
Bet 0.6-1 Range Jackpot 600-1,200.
Bet 2-5 Range Jackpot 2,000-4,000.
Bet 6-10 Range Jackpot 6,000-12,000.
Bet 20-50 Range Jackpot 20,000-40,000.
Bet 60-100 Range Jackpot 60,000-120,000.
Strategically adjust your bets to align with your risk appetite and potential rewards. Remember, increasing your bets not only amplifies the thrill but also heightens your chances of securing significant payouts.
3. Selecting the Game Room
Dive into the immersive world of JILI Dinosaur Tycoon 2 Fishing by selecting your preferred game room. Each room offers a distinct environment, providing a unique backdrop for your hunting endeavors.


Whether you're drawn to the depths of ancient forests or the enigmatic realms of forgotten islands, your choice of game room sets the stage for your next adventure. Navigate through these captivating landscapes as you target captivating creatures and chase after the monumental rewards that await.
Game Features of Dinosaur Tycoon 2 Fishing
You should discover the game features of Dinosaur Tycoon 2 Fishing, included special dinosaurs, golden mammoth, dragon king showdown and jackpot system. Ready to explore further? Let's dive in and see each of them below!
1.Special Dinosaurs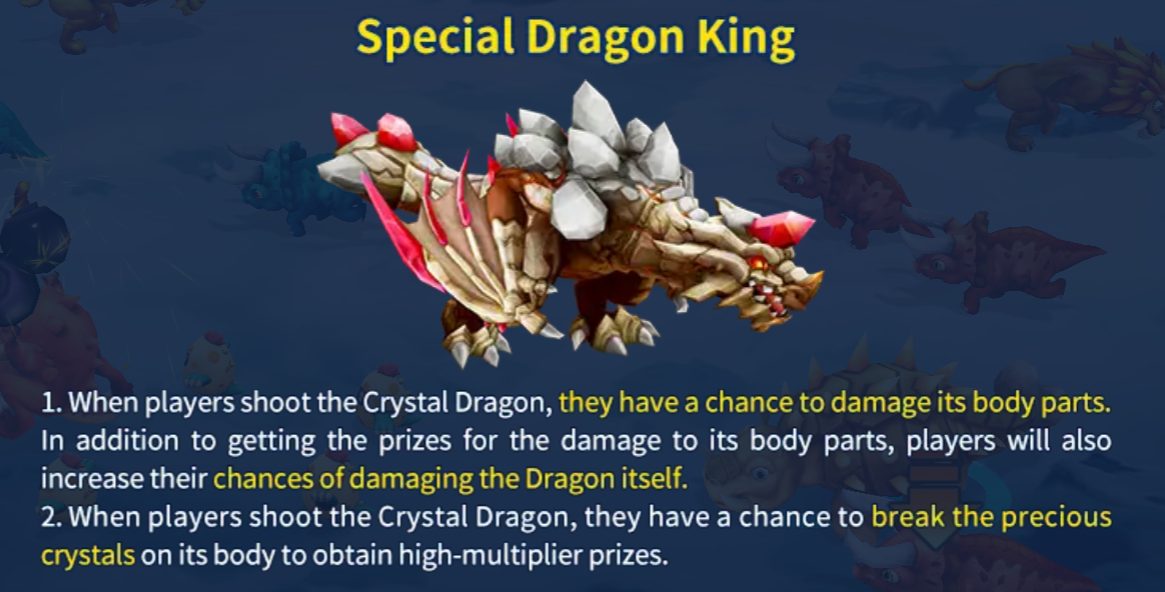 Sprint Triceratops
Engage in a heart-pounding pursuit as you defeat the Sprint Triceratops. Following its defeat, you must navigate a series of sprints on the field. 
Electric Lizard
Prepare for a shockingly electrifying encounter with the Electric Lizard. Upon vanquishing this formidable foe, an electric net activates, enveloping the surrounding area. 
Bomb Frog
Defeat the Bomb Frog and witness a detonation of opportunities. The defeated Bomb Frog triggers an explosive blast, potentially capturing neighboring dinosaurs within the radius of the explosion.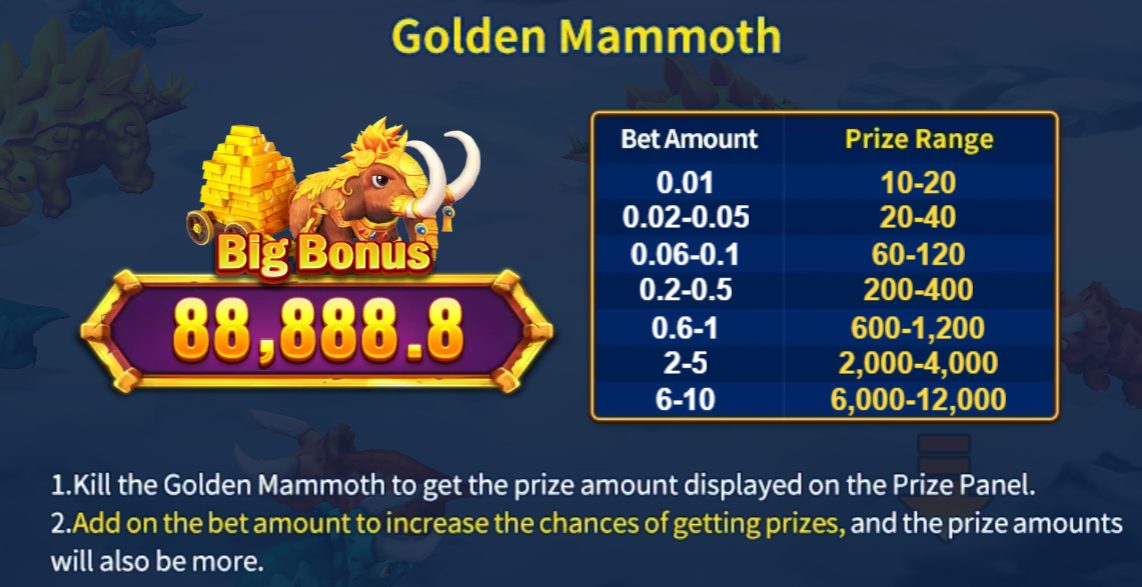 2.Golden Mammoth
To seize the treasure trove displayed on the Prize Panel, your mission involves conquering the majestic Golden Mammoth.
Engage in a thrilling battle with this monumental creature to claim the alluring rewards it guards.
3.Dragon King Showdown
By emerging victorious against two Special Dragon Kings, you unlock an epic showdown known as the "Dragon King Showdown" mode. Enter this mode prepared for a test of intuition and skill.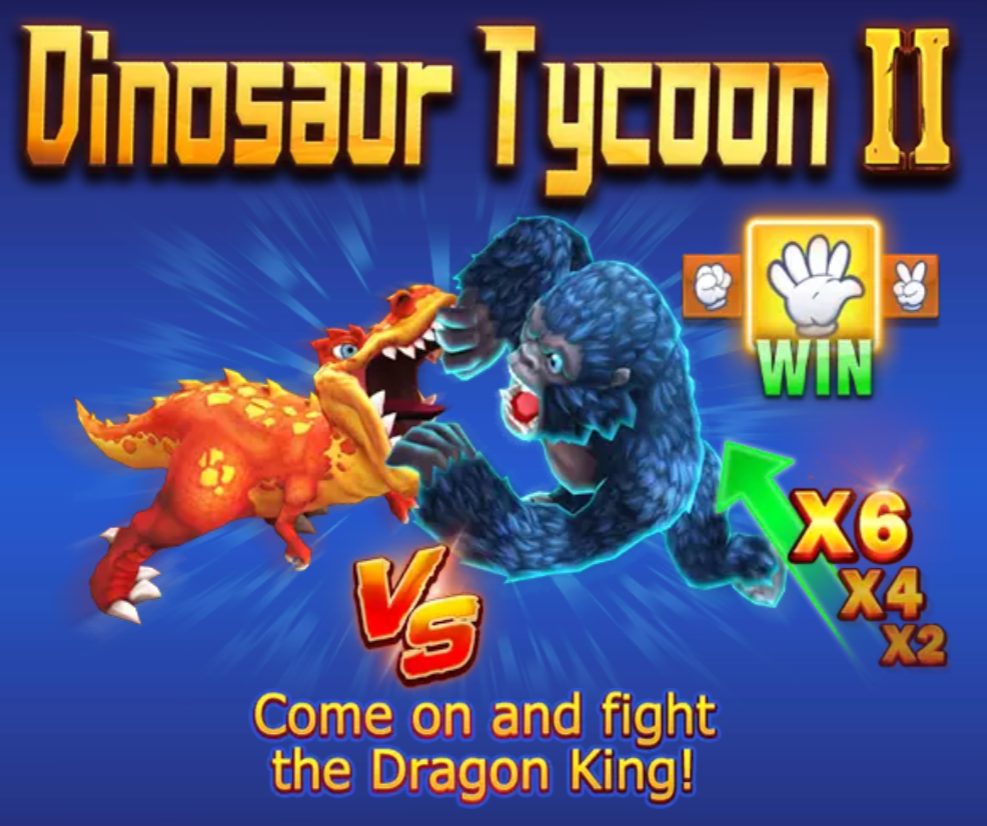 Tyrannosaurus Rex and King Kong
Within the Dragon King Showdown, your task revolves around accurately predicting the outcomes of five rounds, progressively increasing your multiplier.
Crystal Dragon
As your shots collide with the Crystal Dragon, the chance arises to shatter its precious crystals. Breaking these crystals not only bestows high-multiplier prizes upon you but also escalates your potential to inflict damage on the dragon itself.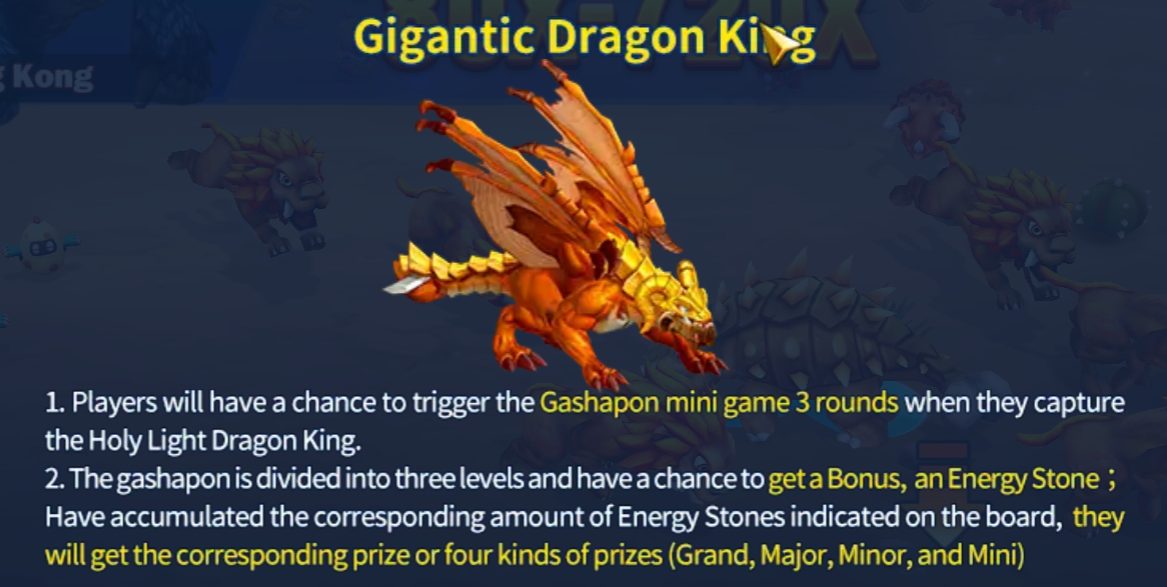 Upon capturing the awe-inspiring Holy Light Dragon King, the Gashapon mini-game activates, inviting you to a thrilling three-round adventure.
4.Jackpot System
Every dragon "hit" sets the stage for a potential jackpot victory. Regardless of the dragon's size, each hit presents a chance to enter a prize drawing. Unlocking these prized opportunities requires fulfilling specific bet conditions.
Free Waterspout
Harness the power of accumulated energy by shooting and unleash a formidable waterspout capable of inflicting significant damage. 
Treasure Chest Pterodactyl
Encounter the Treasure Chest Pterodactyl, a harbinger of golden opportunities. Upon successfully capturing the treasure chest brimming with gold, you receive three dice.
Golden Dice Multiplier
One of these dice may hold the key to extraordinary rewards – the Golden Dice. Multiply the values displayed on all three dice to determine your bonus multiplier.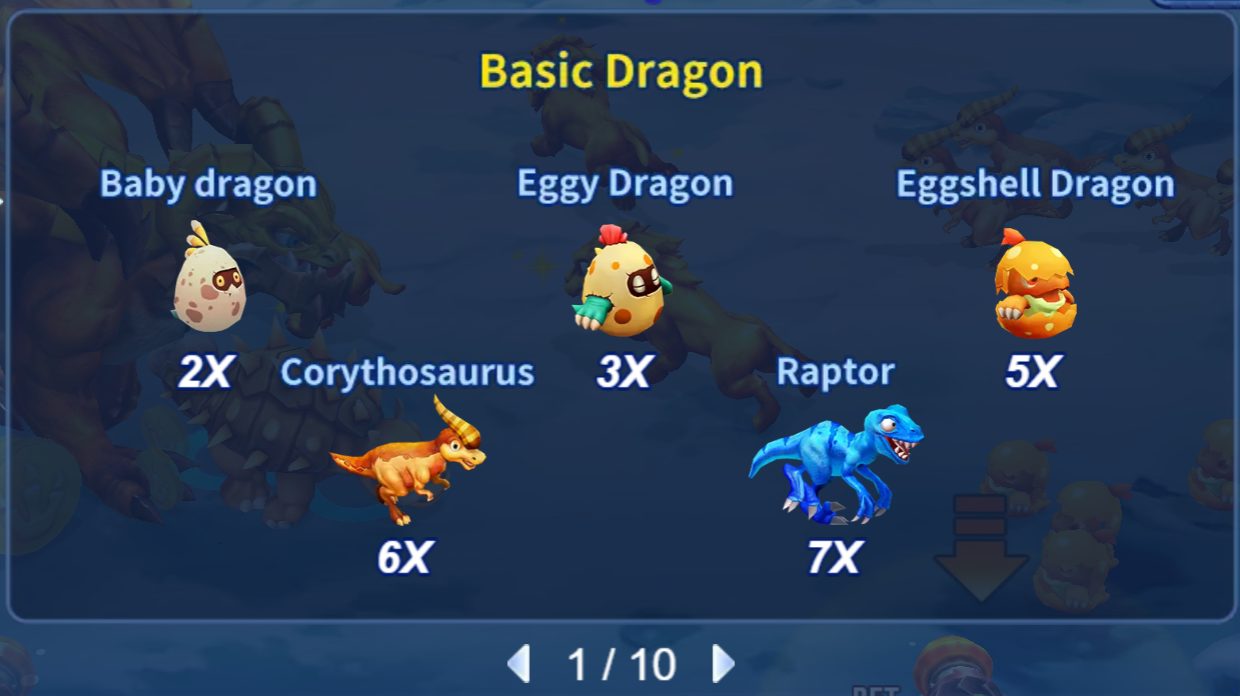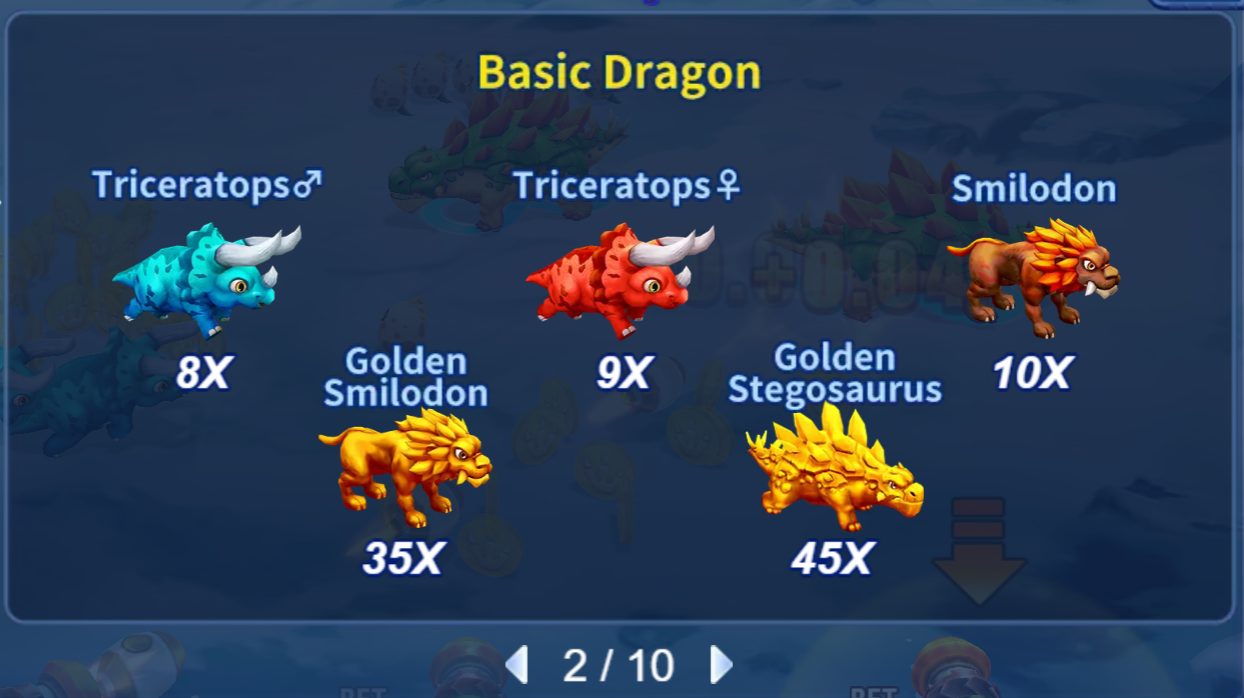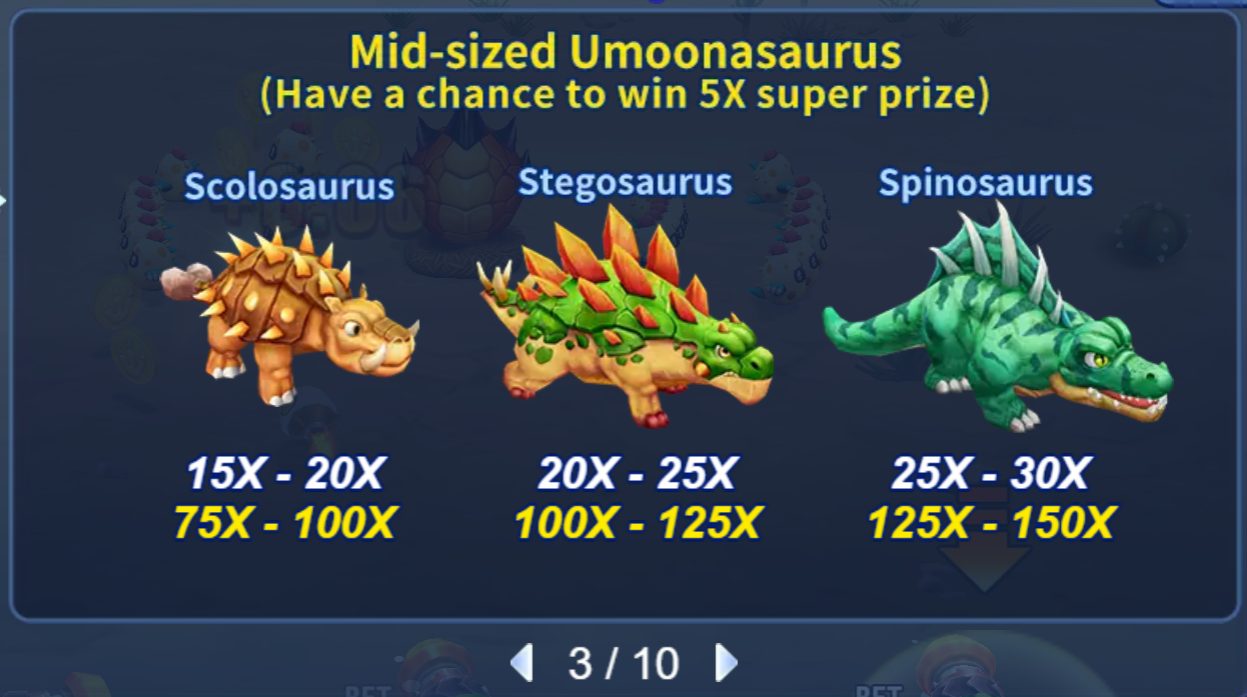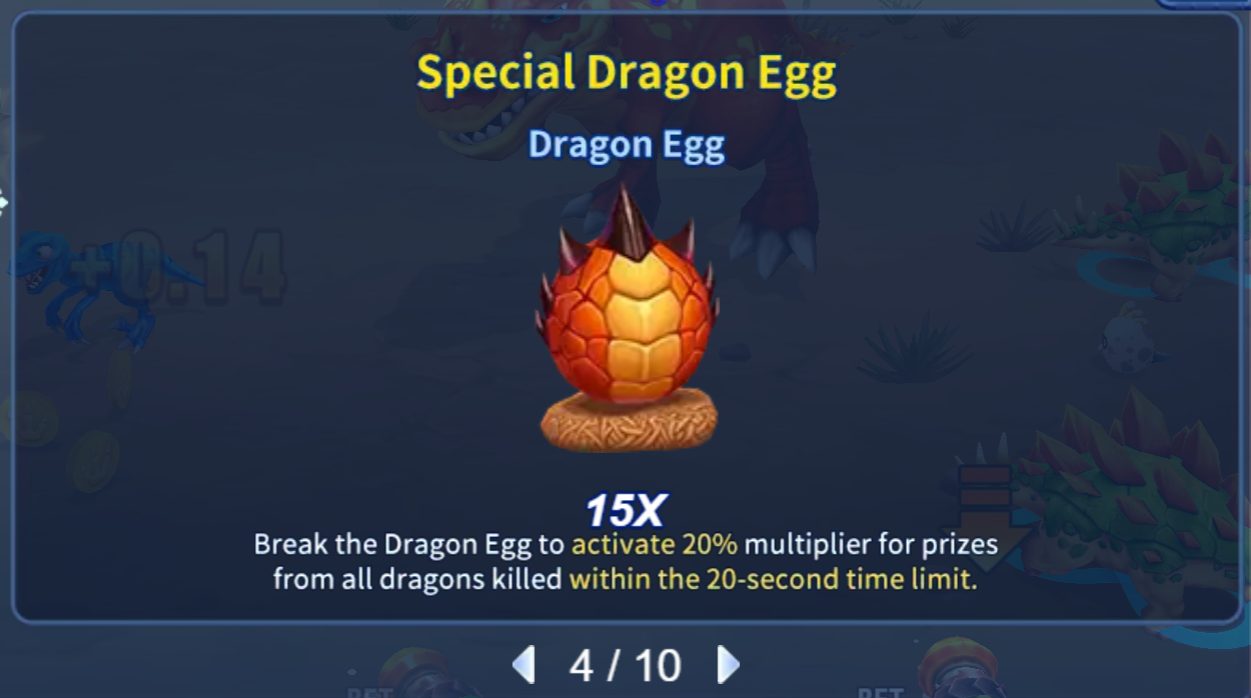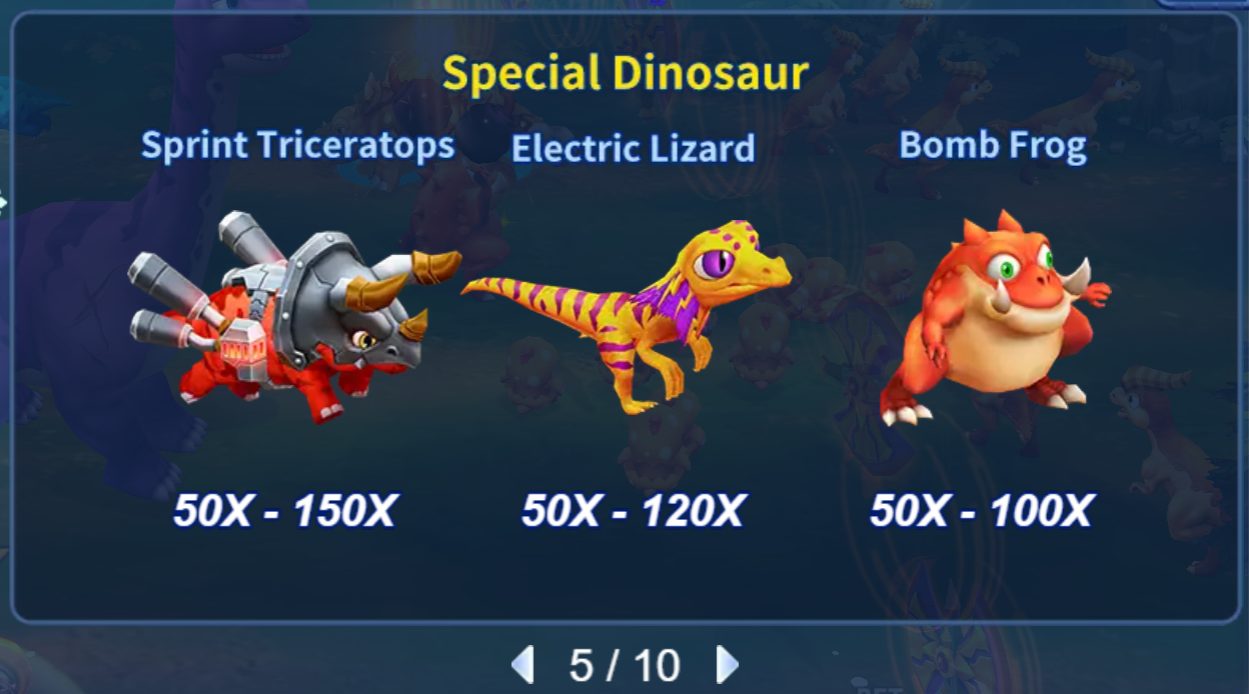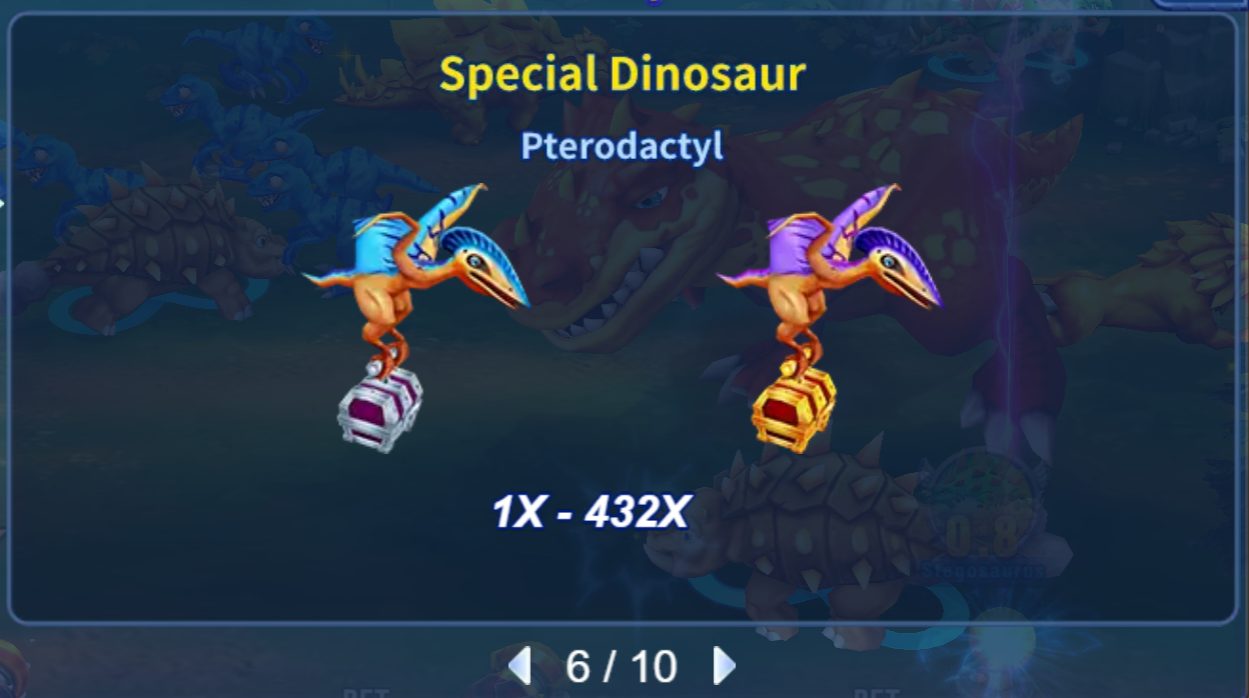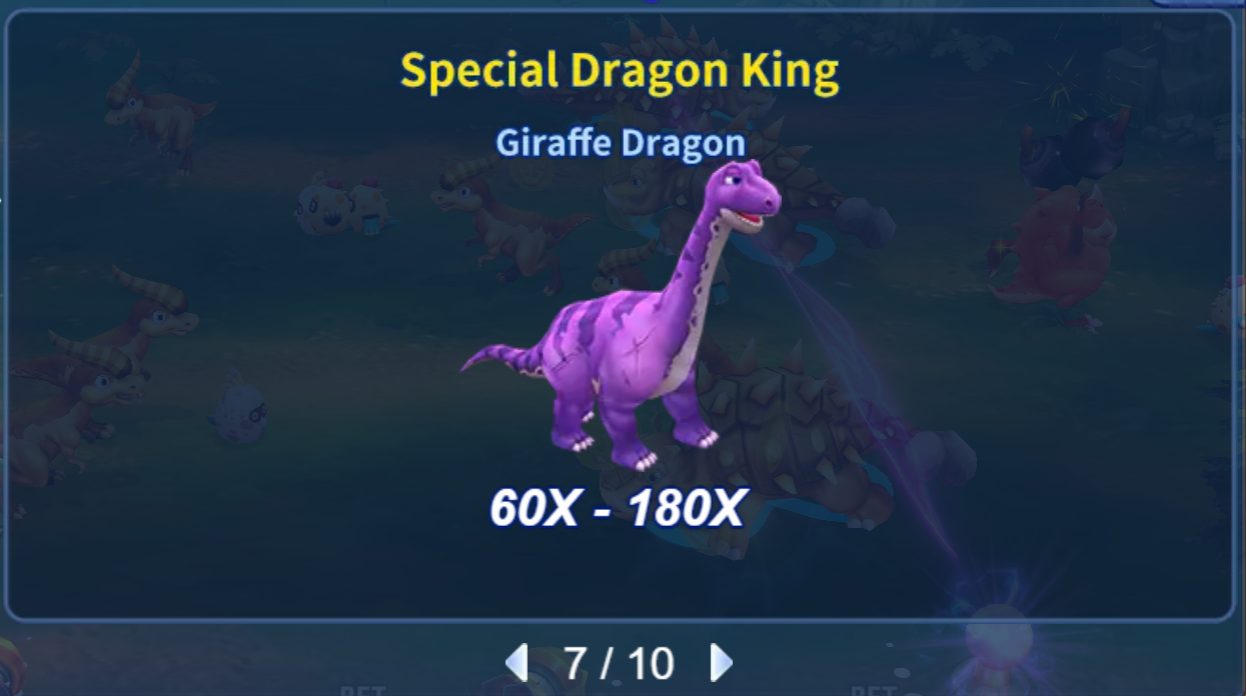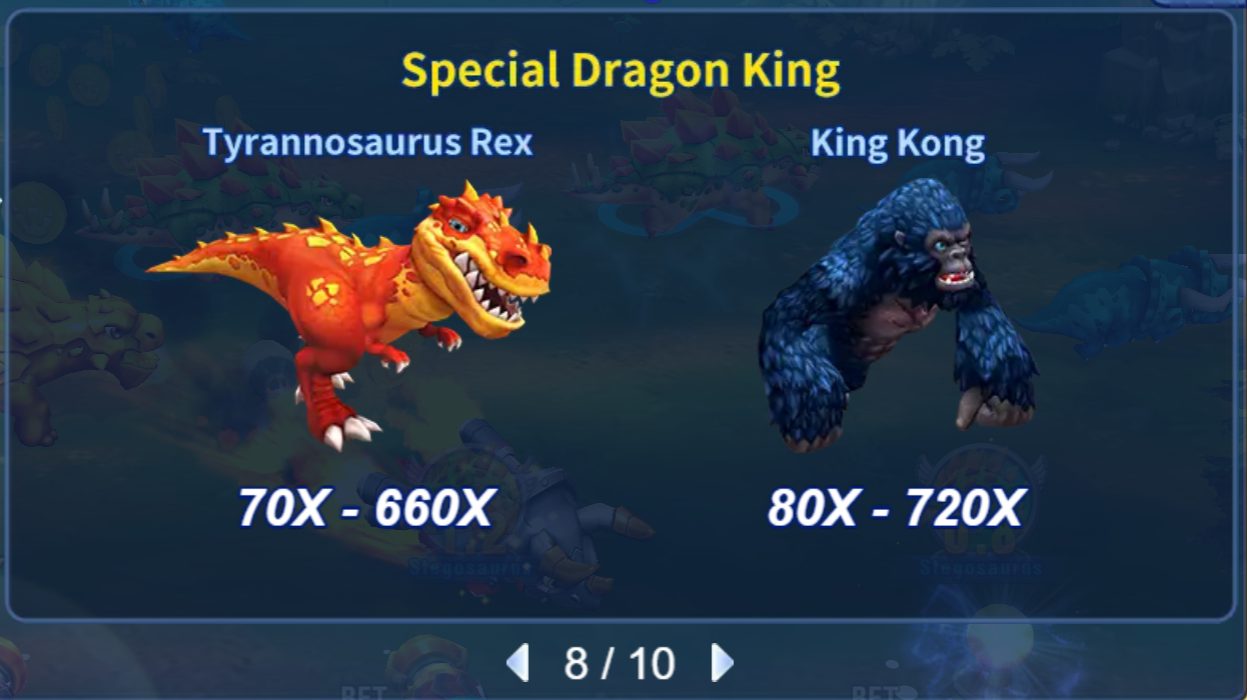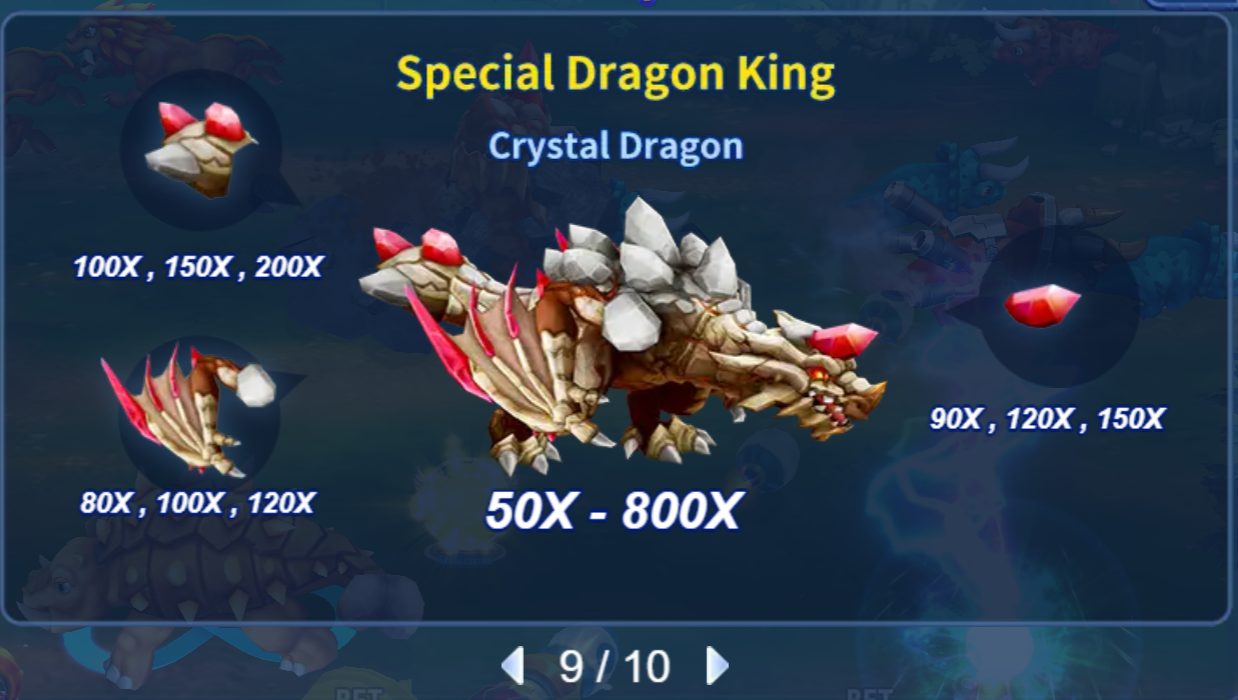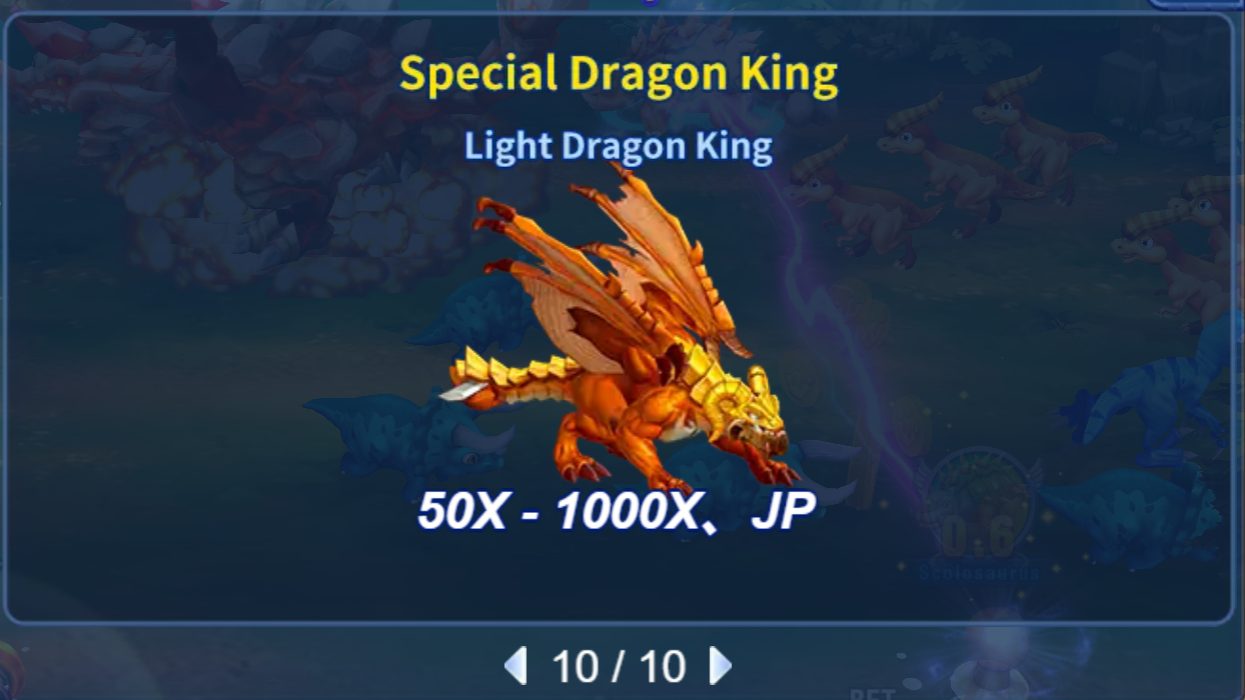 5 Techniques to Win at Dinosaur Tycoon 2 Fishing
With our recommended 5 techniques below, you can easily to win at Dinosaur Tycoon 2 Fishing, included master the game mechanics, leverage special dinosaurs, strategize with bet levels, engage in dragon king showdown and maximize bonuses & energy stones.
1.Master the Game Mechanics
Understanding the target control system, weapon selection, and bet adjustment is essential. These mechanics, outlined in the earlier sections, empower you to navigate the game with precision and strategy.
2.Leverage Special Dinosaurs
Take advantage of special dinosaurs like the Sprint Triceratops, Electric Lizard, and Bomb Frog. Defeating them unlocks unique features that can boost your rewards and capture potential.
3.Strategize with Bet Levels
Utilize your knowledge of the bet adjustment system to strategically choose your wager. Opt for a higher bet to increase your chances of winning and accessing larger prizes, as explained in the previous section.
4.Engage in Dragon King Showdown
Conquer two Special Dragon Kings to activate the Dragon King Showdown mode. Successfully predicting the winner over five rounds boosts your multiplier, allowing you to maximize your rewards.
5.Maximize Bonuses and Energy Stones
Seize opportunities presented by the Gashapon mini-game and the Treasure Chest Pterodactyl. Accumulate Energy Stones to win Grand, Major, Minor, and Mini prizes. 
Popular Casino To Play Dinosaur Tycoon 2 Fishing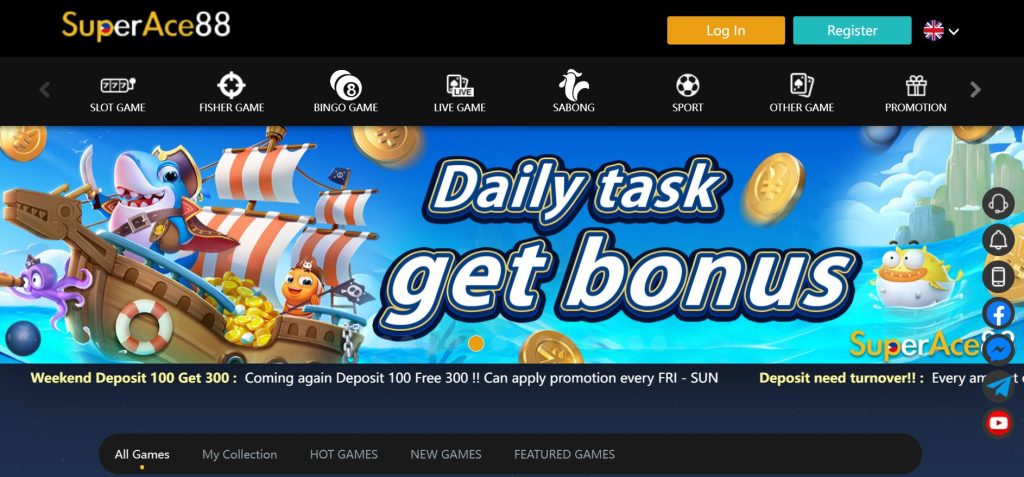 Popular Casino to play Dinosaur Tycoon 2 is Superace88. For an unforgettable gaming adventure immersed in the captivating world of JILI Dinosaur Tycoon 2 Fishing, look no further than Superace88.com Casino.
As a premier destination for online gaming enthusiasts, Superace88 Casino offers a thrilling platform to indulge in the excitement of Dinosaur Tycoon 2 Fishing. Step into a realm where the prehistoric comes to life, and embark on a journey teeming with dinosaur-themed wonders.
At Superace88 Casino, players can dive into the heart of this exhilarating fishing game, where aiming and shooting at an array of targets, including dinosaurs, Golden Smilodon, and more, promises boundless thrills and rewards.
In the captivating realm introduced in "JILI Dinosaur Tycoon Fishing Game," players embrace the pulse-pounding fusion of strategy and action. "How to Play Dinosaur Tycoon Fishing Game" guides you through mastering mechanics, betting wisely, and room selection, while uncovering the "Games Features" delivers a tapestry of thrilling possibilities.
"How to Win Dinosaur Tycoon Fishing Game" unveils secrets to success, emphasizing understanding, strategy, and patience. As your journey draws to a close, armed with knowledge from each section, you stand prepared to conquer this exhilarating underwater odyssey.
Dinosaur Tycoon Fishing Game becomes not just a game, but a realm of triumph where rewards await those who dare to explore its depths.
Popular Casino Bonus for Dinosaur Tycoon 2 Fishing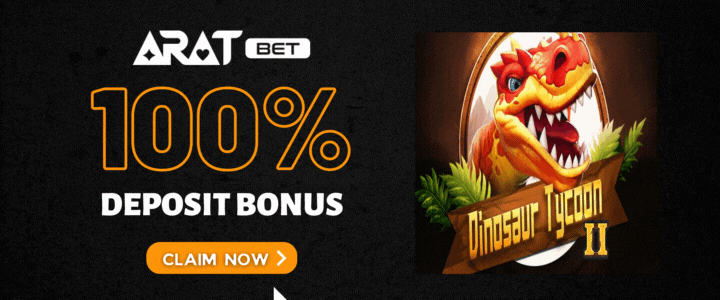 Frequently Asked Questions (FAQs)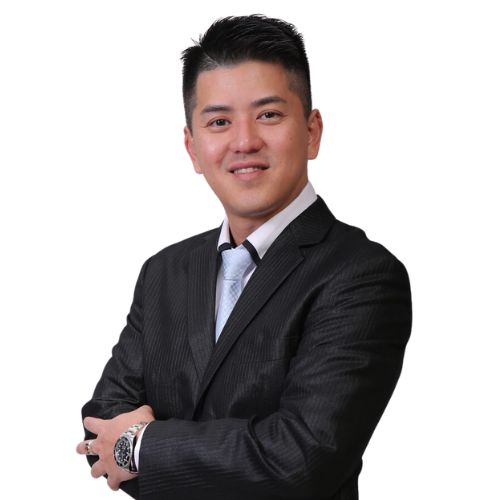 Blog Manager at Superace88
Hugo Phang, a dynamic and innovative professional who serves as the Blog Manager at Superace88 Online Casino, a prominent player in the Philippines' thriving online casino industry. With a passion for both gambling and digital content creation, Hugo brings a wealth of experience and expertise to his role, helping to shape the online casino's digital presence through captivating blog content. 
With his finger on the pulse of the latest casino trends and a commitment to delivering engaging and informative articles, Hugo Phang plays an instrumental role in enhancing the Superace88 Online Casino experience for players across the Philippines and beyond.
The following blog post is intended for informational purposes only. The content provided in this post is based on the knowledge and information available up to the date of publication, which is [insert publication date]. Please note that information, circumstances, and events may have changed since the time of writing, and while we strive to provide accurate and up-to-date information, we cannot guarantee the accuracy, completeness, or relevance of the content at a later time.
Thank you for reading and engaging with our blog post. We hope you find the information valuable and useful. Please remember that the information provided here is not a substitute for professional advice and should be used at your own discretion.